NEW! Arts Award 'Discover'
We are currently developing and piloting programmes linked to Arts Award at Discover, Explore and Bronze level.
Discover
From Autumn term 2014, a FREE specially produced logbook will be available for teachers and group leaders to download as part of a pre-booked visit to the Museum. The logbook has been designed to support young people (and teachers!) completing the 'Discover' level for Arts Award, and is ideal for self-directed groups visiting and investigating the Maritime Museum as an arts organisation, or as part of a broader topic.
Explore
A full-day programme for pre-booked primary school groups linked to the 'inspire', 'explore', 'create' and 'present' criteria – eg 'hot seating' museum practitioners, investigating how the museum communicates through exhibitions, and creating and presenting their own interactive display using real artefacts.
Bronze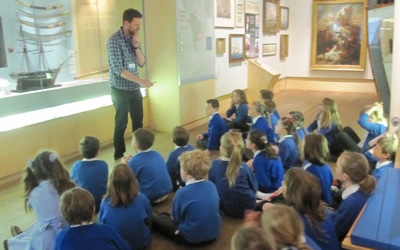 By arrangement, for Yr 10 students as part of their work experience at the Museum. Students will complete a series of portfolio work based around investigation of the Maritime Museum as an arts and cultural organisation. Key elements include meeting and working with museum practitioners (marketing, exhibition design, curators and museum educators). Students will research, design and produce their own 'make and take' craft activity for families visiting the museum, demonstrating and presenting their work to the education team. Students will also be given the opportunity to deliver their craft activity to an early years audience as part of the 'Museum Minnows' programme.
Subject to availability and formal interview with student/s and school. To discuss how the Museum's education team can help you deliver Arts Award at Discover, Explore or Bronze level, please contact Seth Hall, Education Officer, on 01326 214535 or email sethhall@nmmc.co.uk