NEW! Pirates: Fact & Fiction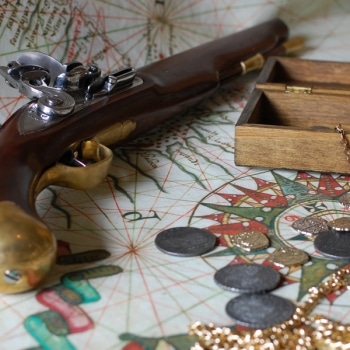 Duration: 2 1-hour activities, plus time to explore the Museum
Cost: £4.50 per pupil, adults free
Group Size: up to two classes
New KS1 History and English Workshop
Introduction
In this hands-on history programme, children will use a range of original and replica artefacts, portraits, models and maps to explore the truth about piracy and privateering in the 17th and 18th centuries – and a mysterious Cornish legend!
Outline
Teachers may choose from a range of hands-on and role-play activities that investigate different aspects of pirate life, including:
The truth about pirate ships
Discover the difference between a galleon and a deadly sloop, and make your own pirate ship to carry treasure safely across out boat pool.
Fun, inspiring, memorable … they all want to come back again!
Life on board
Investigate the life of a pirate through replica costume, maps and artefacts.
Maps and treasure
Build up a pirate treasure map of the world. What was real pirate treasure? What did pirate maps really look like? Did pirates really bury their treasure?
Curriculum links
KS1 History: Significant historical events, people and places in their locality
KS1 English: Speaking and Listening
Plus! Free pirate 'outreach' workshop in your school
This programme is supported and extended by a free outreach pirate workshop in your school, run by Cornwall Record Office (subject to availability). Based around the infamous pirate Henry Avery, children will investigate the truth behind the legend that Avery buried millions of pounds worth of treasure when he landed in Cornwall.