NEW! Sir Francis Drake: the Queen's Pirate
"The children were really engaged and enjoyed it … especially Drake's portrait and the giant map of the world!"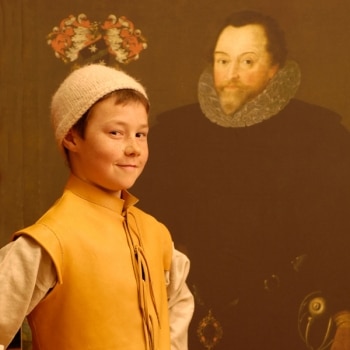 Duration: 2 ½ hours of activities, plus time to explore the Museum
Cost: £4.50 per pupil, adults free
Group Size: up to two classes
New KS1 History and English Workshop

Introduction
In this hands-on history programme, children will use a range of original and replica artefacts, portraits, models and maps to discover more about why Sir Francis Drake is such a significant individual in history.
Outline
Teachers may choose from a range of hands-on, story-telling and role-play activities to investigate different aspects of Drake's life and achievements:
Drake's voyage around the world
Come with Drake as he sets off on a 'secret mission' into the new world, and take part in 'pirate' raiding role-play challenge.
Life on board
Investigate life on board a Tudor ship through replica costume and artefacts.
Tudor ships
Explore the main features of Tudor sailing ships, and make your own Tudor ship to sail across our large boat pool.
Curriculum links
KS1 History: Significant individuals in the past who have contributed to national and international achievements; a turning point in history
KS1 English: Speaking and Listening