Tudor Explorers
"Great. Best museum workshop I've done with children"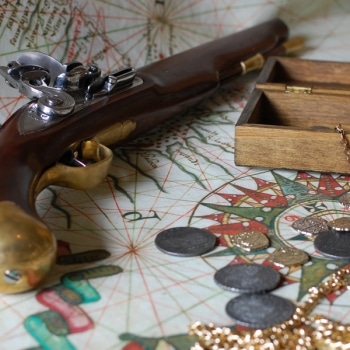 Duration: 2 hours for a single class, plus time to explore the Museum
Cost: £4.50 per pupil, adults free
Group Size: Up to 2 classes
New KS 2 History workshop
Introduction
Did you know that there were brave Cornishmen in Drake's crew during his incredible voyage around the world in 1577?
This programme uses replica artefacts, portraits and maps of the world to examine the causes and impact of exploration during the Tudor period.
Outline
Workshop 1 starts with an investigation of a replica portrait of Queen Elizabeth 1 to establish ideas of wealth, power and luxury, and to ask the question: 'Why did the Tudors explore outside Europe?' Children then gather around a large-scale replica map of the world in 1572.  Using spices, treasure and labels, children are encouraged to build up a physical picture of the world in Tudor times – and to see how geographical understanding changed. The session finishes with a quick re-telling of Drakes circumnavigation. A special role play activity will challenge children to priorities the value and usefulness of different artefacts captured from a Spanish treasure ship.
Workshop 2 focuses replica artefacts and models to investigate changes in technology and life on board 16th-century sailing ships. The session ends with one child dressing in the authentic replica costume of an ordinary Tudor sailor.
Curriculum links and learning outcomes
Supports QCA scheme of work Unit 19: What were the effects of Tudor Exploration?
Covers key questions:
Why did the Tudors explore outside Europe?
How did people explore the world in Tudor times?
How did geographical understanding change during the Tudor period?
Why did Drake circumnavigate the world?