Our October half term activity has now finished – we hope you had a spooktacular time.
Incredible storytelling from Yskynna, spooky craft making and a Museum trail with prizes to be won this October half term.
The Girl and her Shadow – Yskynna
Monday 21 – Friday 25 October
performances at 11.30am, 1.30pm and 3.00pm.
Yskynna return to NMMC this October half term with intimate performances and story telling through aerial dance and a sensitive musical score. The Girl and her Shadow combines reflection, aspiration and adventure in a world where you can meet your shadow self to be greater than you once were.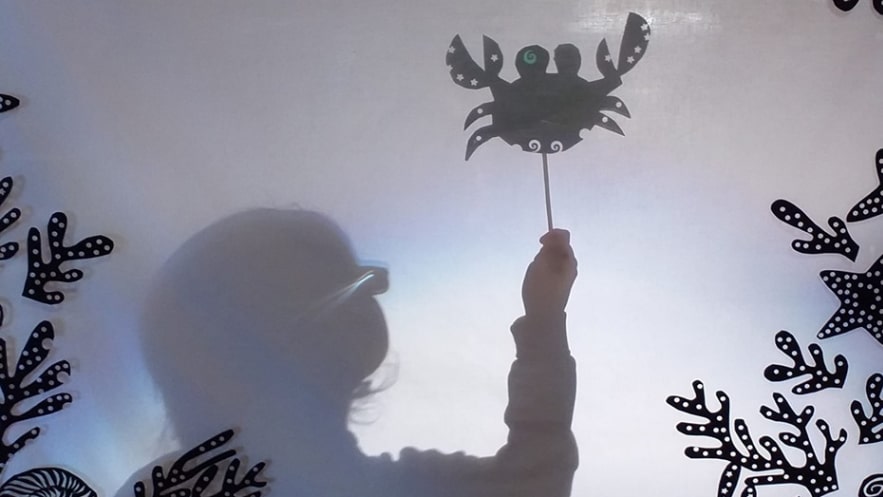 Make and Take
Saturday 19 – Sunday 27 October
Craft a mermaid,  shark or octopus and create your own shadow show for all to see. Make a lantern too for spooky stories at home.
Shadow trail
Saturday 19 – Sunday 27 October
Can you find all the hand shadows hidden throughout the Museum? Spot them all and claim your prize.
Scuba Show
On Friday 25 October at 2.50pm, head to the Museum's Tidal Zone for an underwater scuba show. Learn common underwater hand signals and chat with the divers through the deep sea windows whilst keeping an eye out for divers outside the giant underwater windows. Find out more about the next Scuba Show at National Maritime Museum Cornwall.
What else is here?
Discover the Treasure Island Play Zone. If ye be brave enough, follow the map, through the smugglers cave,  along the island beach to Treasure Island fort. Let imaginations run wild!
Explore 15 galleries over four floors, jump aboard boats, climb the 100-foot Look Out Tower, watch shipwrights boat-building, go underwater in the Tidal Zone, hear ocean adventures & survival stories and sail miniature boats on the waterfront boat pool.
Relaxed Session
On Saturday 19 October the Museum is hosting a relaxed Session where noise is reduced, there is a quiet space away from our galleries and sensory bags and ear-defenders are available. Find out more about National Maritime Museum Cornwall's Relaxed Sessions.
Pay once, get in free for a year! October half term activities are free as part of the admission fee.