Viktor Wynd is an artist, writer and 'pataphysicist. Born in Shanghai, but mainly brought up between Muswell Hill and Chipping Norton, he studied French civilization at the Sorbonne in Paris, medieval Islamic history at the School of Oriental and African Studies, fine art at the John Cass and postgraduate sculpture at the University of South Florida (where he held the Rosenquist Fellowship in fine art).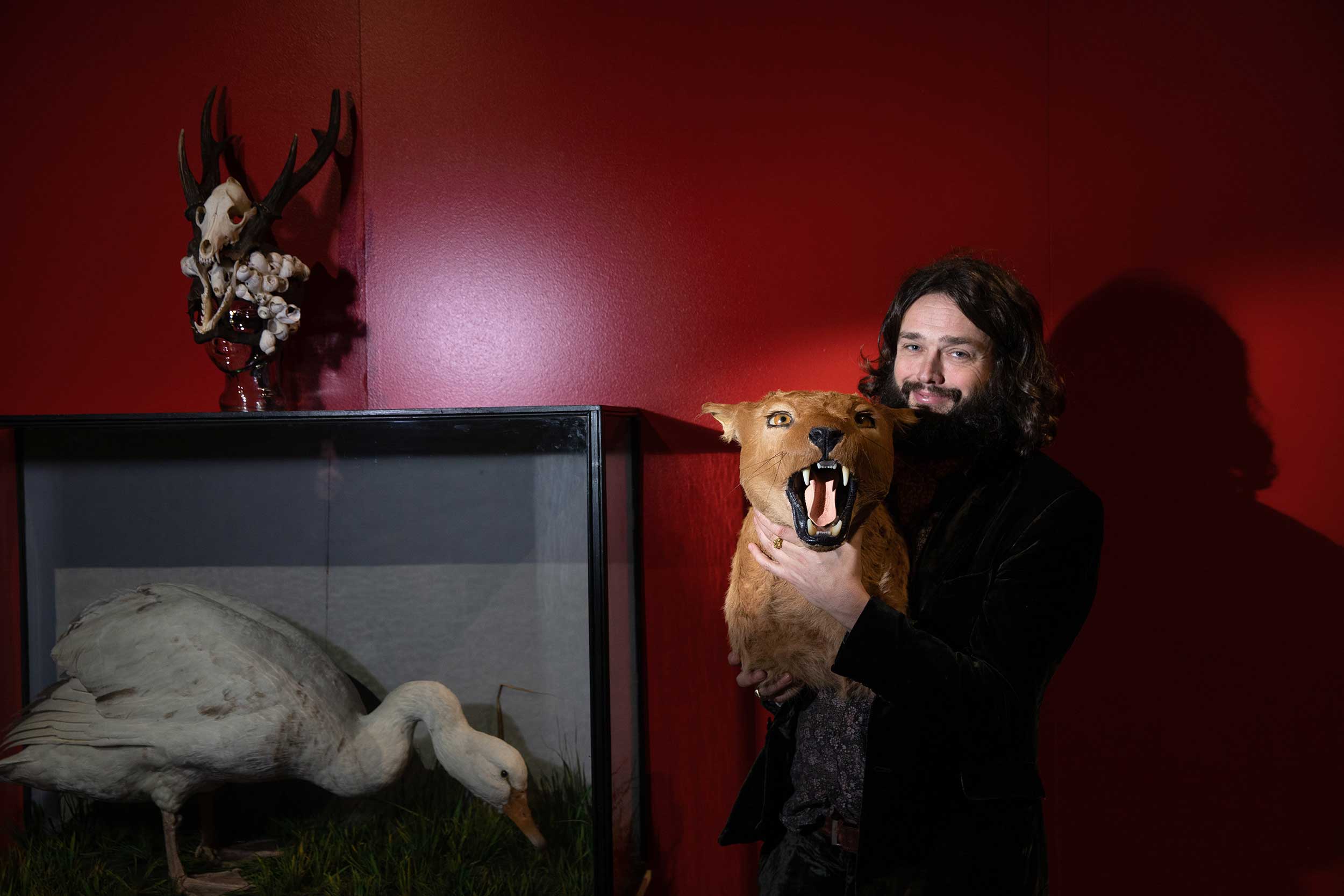 In the early noughties he participated in many group art exhibitions and held three solo exhibitions of his drawings, sculptures and installations. As his practice developed more into the field of relational aesthetics he moved his work out of the gallery, recreating Günter Grass's Onion Cellar nightclub from The Tin Drum as a party called 'Loss, an Evening of Exquisite Beauty'. Next he reinvented the concept of the masquerade ball, turning Halloween into adult entertainment with enormous danse macabres for up to 6,000 people.
In 2006 he opened his Wunderkabinett (originally as a curiosities shop) called Viktor Wynd's Little Shop of Horrors, and an eponymous art gallery. Here, he has curated over forty exhibitions and put on all manner of lectures, workshops, séances and puppet shows. Having amassed a large collection (but no funds), he launched a successful crowdfunding campaign to convert the premises into the Viktor Wynd Museum of Curiosities, Fine Art & Natural History (with a tiny cocktail bar) in 2014.
His many hobbies, interests and obsessions feed into his practice. A keen amateur naturalist, he lives on a former farm in Suffolk where he grows carnivorous plants and orchids. He increasingly devotes time to two orchards, where he has planted a wide variety of edible plants – from persimmons and pomegranates to pecans and loquats, and not forgetting apples, pears, medlars. He also keeps an ever-expanding menagerie of chelonians, amphibians and birds.
We are delighted to have Viktor Wynd's UnNatural History Museum as part of the Monsters of the Deep exhibition.