We are open and looking forward to seeing you.
We are committed to your safety and comfort in our museum.
We have implemented a number of essential measures to keep everyone in our building safe. Before you visit us, please read about the ways we will continue to maintain a COVID secure environment.
ARVE Error: src mismatch
url: https://youtu.be/hqGRHSw-q5w
src in: https://www.youtube-nocookie.com/embed/hqGRHSw-q5w?feature=oembed&enablejsapi=1&origin=https://nmmc.co.uk
src gen: https://www.youtube-nocookie.com/embed/hqGRHSw-q5wActual comparison
url: https://youtu.be/hqGRHSw-q5w
src in: https://www.youtube-nocookie.com/embed/hqGRHSw-q5w?enablejsapi=1&origin=https%3A%2F%2Fnmmc.co.uk
src gen: https://www.youtube-nocookie.com/embed/hqGRHSw-q5w

Pre-booking
To help maintain social distancing we have introduced timed arrival slots. Every visitor to the Museum will need to pre-book their slot, including Members and valid Annual Pass holders. Each slot has a limited amount of spaces available and without a booking we may not be able to allow you entry.
We are open as usual each day from 10am to 5pm (last entry is 3.30pm) and you're welcome to stay as long as you like.
We ask that to help maintain social distancing you do not arrive before your time slot. If you arrive after your time slot we may not be able to allow you entry. If you are displaying any of the symptoms of Coronavirus (Covid-19) please save your visit for another time.
At this time we are unable to accept any other free passes such as the Art Fund Pass and Blue Peter Badge holders.
Contactless payments
All payments at the Museum are cashless.
Face masks and face coverings
Wearing face masks is mandatory in the Museum, unless you are medically exempt. Please wear a face covering in all areas of the Museum.
One-way route
A signposted one-way route around the Museum has been created and takes in all major galleries and exhibitions, including Monsters of the Deep, our latest blockbuster exhibition. However, if you prefer to explore the galleries using your own route, that's good with us too.
Cleaning and hand sanitiser
We are cleaning more than ever. On top of our strict cleaning regime we have employed additional team members to regularly clean areas of the Museum such as handrails, touch screens, lift controls and the toilets throughout the day.
There are a number of hand sanitiser stations throughout the Museum for you to use. We ask that you use the sanitiser at the Museum entrance before you start your visit with us.
Social distancing
To help with social distancing, there are markers on the floor in all queuing areas and helpful reminders as you navigate your way around the building.
Ventilation
We are keeping the Museum well ventilated. This may mean on windy days the Museum becomes chilly. We recommend bringing an extra layer and wrapping-up warm.
Toilet facilities
The toilet facilities are open and will be deep cleaned regularly throughout the day. We have replaced hand dryers with paper towels as well as fitted new motion operated soap dispensers and taps.
Food and drink
You can still have a brew with a view in our café – hot drinks with tasty cakes and snacks are available.
Gift Shop
You can still have a brew with a view in our café – hot drinks with tasty cakes and snacks are available.
Paying
We are taking cash, card and contactless payments at all tills.
We're good to go!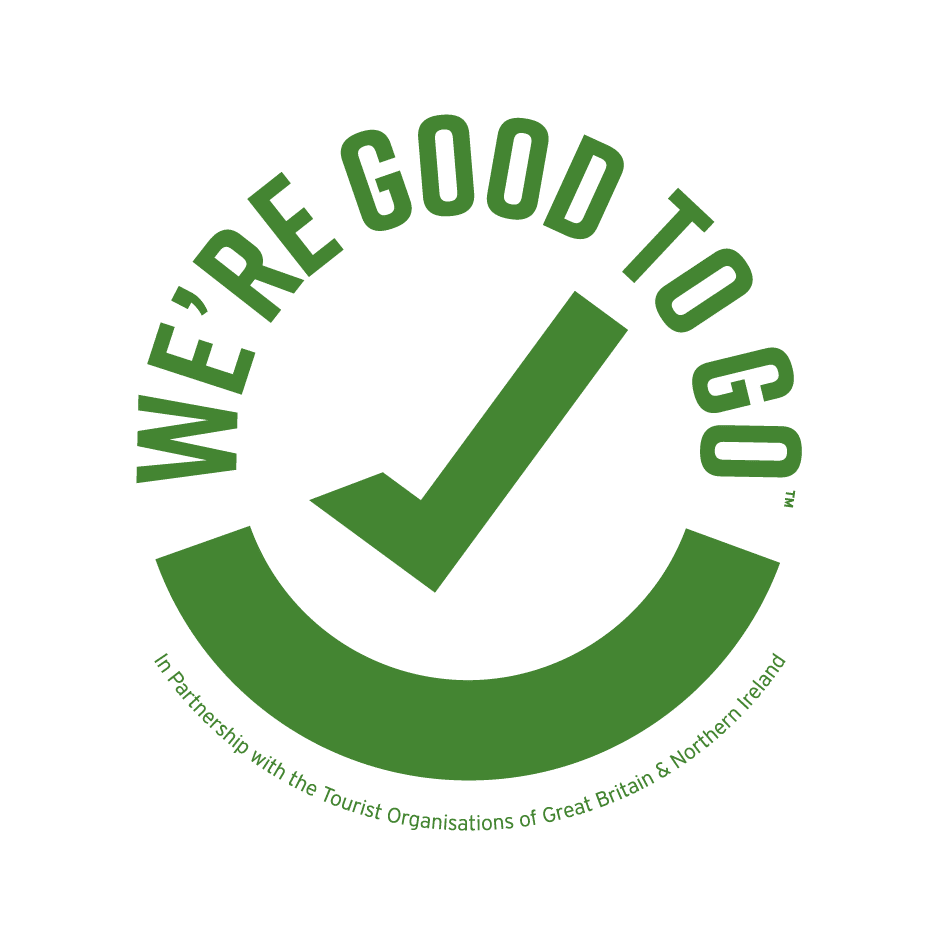 We're thrilled to have achieved the industry standard 'We're Good to Go' mark from Visit Britain.
FAQs
When is the last entry to the Museum?
Last entry to the Museum is at 3.30pm. If you find you need more time and don't manage to see everything you can come back within the year, for free, as many times as you like. You will need to pre-book every time you visit.
Are you still offering annual passes?
Yes! Pay once, get in free for a year.
What areas of the Museum are closed?
The Bartlett Maritime Research Centre and Library is currently closed to visitors, however our volunteers are still working on enquires and research – they can be contacted via library@nmmc.co.uk. Please also note there are no cloakroom facilities available currently. These areas will be reopened once it is deemed safe to do so. Please keep an eye on our website and social media channels for updates.
My annual pass expired whilst the Museum has been closed, can I still use it?
National Maritime Museum Cornwall is an independent museum, this means we receive no regular financial support. We stay afloat through donations, spend in our shop and cafe and, most importantly of all, our annual pass admissions. Without this money we just could not survive. The past 18 months have been some of the toughest the Museum has faced. As a result we have had to make some hard decisions and one of those is not to extend the annual passes. We hope as we reopen our doors and welcome you back you'll support us by renewing your pass so we can stay here, a part of the community we love so much, for many more years to come. To renew your annual pass, simply book a time slot as a 'new visitor' through the website.
Will I have to wear a face covering?
We strongly encourage everyone in our building to wear a face mask to help keep everyone safe and well.
If I have to leave the building can I come back in later on the same day?
Yes, providing there is available capacity at the time you wish to return. Your Annual Pass also gives you free access for a year to return as many times as you like so if you're unable to return the same day, pop back any time over the next 12 months.
Can I bring a picnic?
Yes, you are welcome to bring a picnic. Picnics can be eaten in our café area. We kindly ask that you clear your table using the bins provided when you leave.
I'm bringing a pushchair, is there somewhere to leave it?
No, the cloakroom areas are not currently available. You are welcome to take the pushchair around the Museum with you – please read our access guide.
Are you taking group bookings?
For the moment we are unable to take group bookings. If you have a query about group bookings please email enquiries@nmmc.co.uk.
Free entry pass holders
For the foreseeable we are only allowing free entry to annual pass holders, under 5s and carers. We plan to review this on a regular basis.