This May half term we're taking the Trail offsite and online with The Rock Pool Project. Discover how to rock pool safely, how to identify creatures and how to look after their environment in our trail.
There are two ways you can enjoy our Mini Monsters of the Not So Deep Trail – either head to Falmouth's seafront or keeping scrolling for the online trail.
Seafront trail
Dotted along Falmouth's seafront are a series of Mini Monster markers. Each with a QR code to find out more about the fascinating world of rock pools.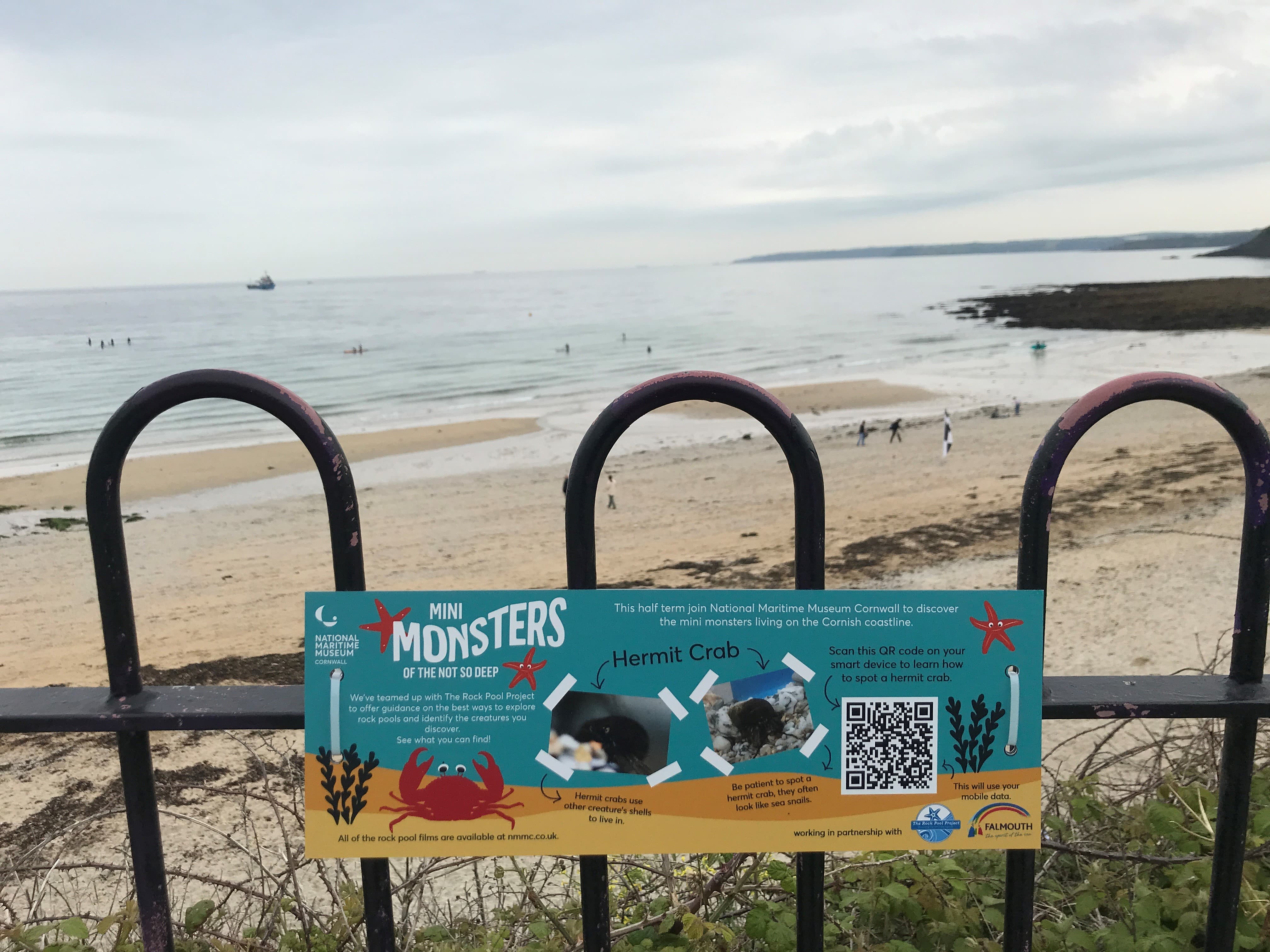 At the end of the trail, if the tides are right, use your new rock pooling skills and go searching for the Mini Monsters of the Not So Deep. Take a look at what equipment you'll need and how to you and the creatures you find safe here: rock pool safety and equipment list.
Please share photos of any rock pool discoveries you make – send them to enquiries@nmmc.co.uk.
Online trail
Welcome to the Mini Monsters of the Deep Online Trail. Let's go rock pooling! Click on the circular images at each stop to find out more about rock pooling on the Cornish coast.
Welcome to the first stop
At this first stop we're taking a look at a few of the most common creatures you can find in local rock pools.
–
Stop two
Keeping yourself and the creatures you find safe is very important when rock pooling. At stop two we explore safety as well as the equipment you'll need to make the most of you time on the coast.
–
It's time for stop three
Not far from the Museum there are lots of great places to rock pool. Here are three  of our top locations in Falmouth.
–
The forth stop
On the final stop we head inside National Maritime Museum Cornwall to explore some of the intriguing spaces, exhibitions and objects.
–
Thank you to The Rock Pool Project for offering their expertise. Find all the videos from the trail (and more!) on National Maritime Museum Cornwall's YouTube channel.
Thank you for taking part in Mini Monsters of the Not So Deep Online Trail. Take a look at the Science of the Sea Online Trail next.