Unfortunately, due to the uncertain situation throughout Europe and across the globe in relation to the COVID pandemic Tall Ship Tours, and therefore the Tall Ship Tours at NMMC, have been cancelled for 2021.
Charter one of the Museum's heritage boats for a tour of the magnificent Tall Ships.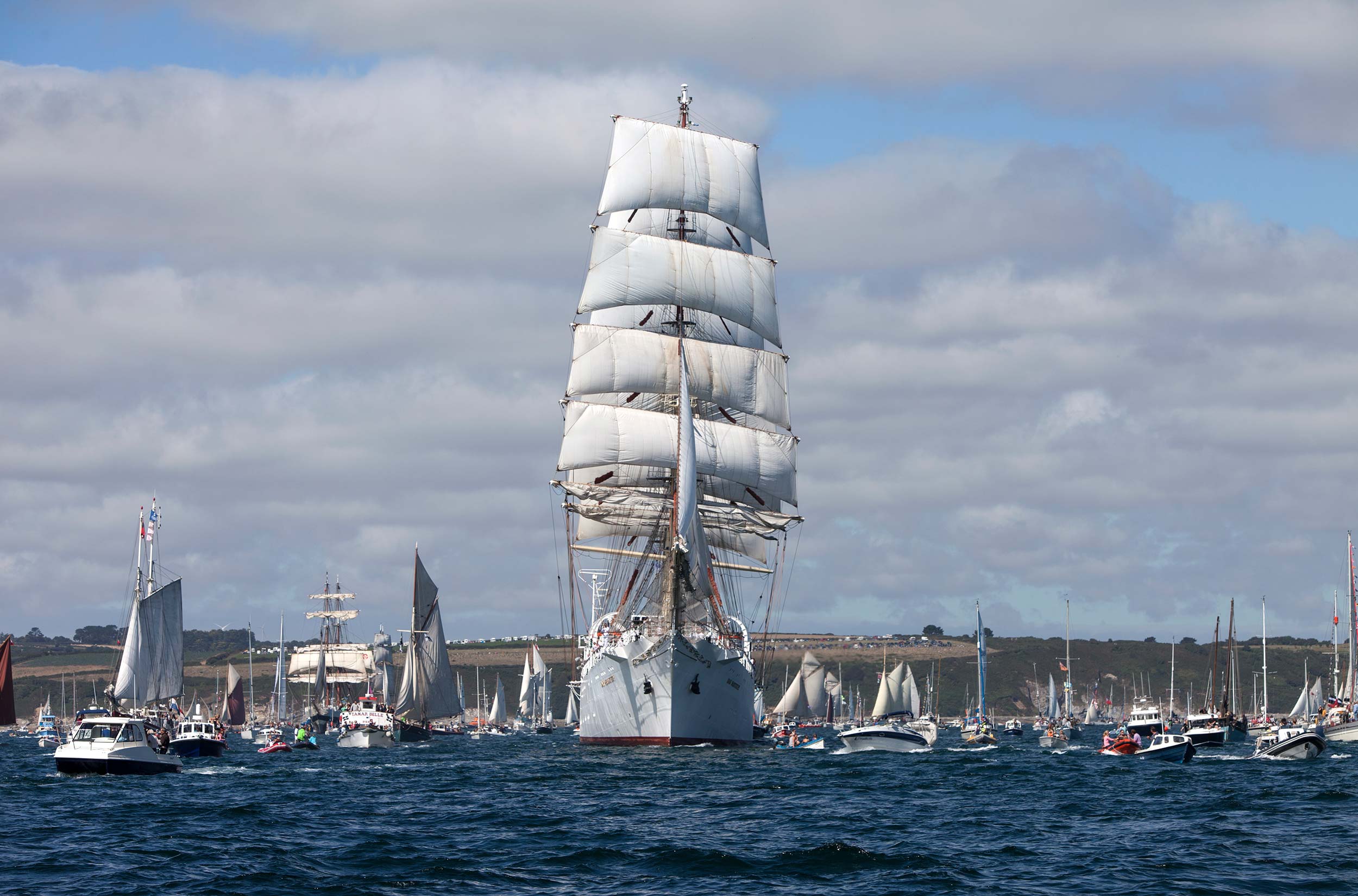 The boats
Jonik – 1930's motor launch
Jonik is a 24ft (7.3m) motor launch built in Fowey in 1934. The builder, Percy Clemens, used the best quality timber available. She is built using silver spruce and teak and demonstrates excellent craftsmanship.
Emma – steam launch
Emma is a 22ft x 6ft teak-built steam launch. Although the original builder is unknown it's believed Emma was built around 1912.
Times
Tuesday 17 & Wednesday 18 August: 10am, 11.30am, 1pm, 2.30pm & 4pm.
Thursday 19 August: 10am, 11.30am, Parade of Sail TBC.
Price & Booking
|   | Price | Booking |
| --- | --- | --- |
| Jonik – motor launch | £175 | |
| Emma – steam launch | £300 | |
Please arrive at the admissions desk 15 minutes before the start of the trip.
Included in the price of the charter is:
Up to eight passengers on the boat.
An hour long boat trip onboard one of the Museum's heritage boats  exploring the Tall Ships in Falmouth.
A day pass to the Museum for everyone on the charter.
Please arrive at the admissions desk 15 minutes before the start of the trip.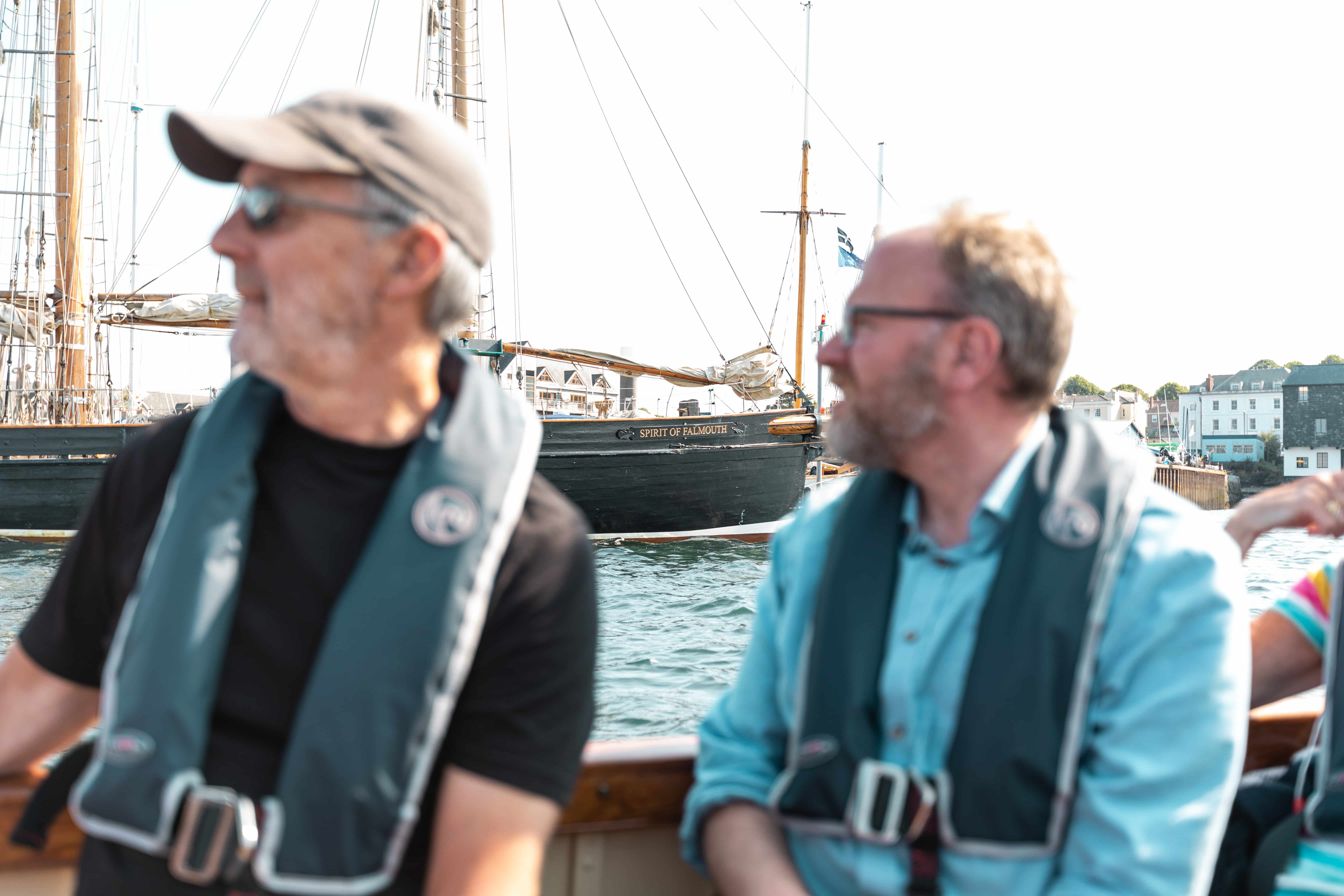 FAQs
How long will the charter last?
The trip will last one hour.
What measures are in place to keep the Tall Ship Tours COVID secure?
We have reduced the amount of passengers on the boat to allow for social distancing between the crew and your group. All crew and passengers on the boat are expected to wear masks and crew will be regularly using hand sanitiser. The boat and life jackets will be sanitised between each trip. Please note that crew will not be able to help passengers on and off the boat at this time.
Do I have to wear a mask on the boat?
Yes, a mask must be worn throughout the Museum visit including when on the boat. Those with an exemption do not have to wear a covering.
What time do I need to meet the crew?
Please meet 15 minutes before the start of the tour at the Museum's admission desk. This allows enough time to put on life jackets and get ready for the trip.
Are there facilities on the boat?
There are no toilet or refreshment facilities on the boat. The Museum has toilets and a café for refreshments, which you are welcome to use before or after the boat trip.
Can I take my baby on the tour with me?
Unfortunately, due to safety concerns, we are unable to offer spaces to any children under the age of two, including babies.
Can I transfer my ticket to another day?
Unfortunately tickets are non-transferable and non-refundable. If the Museum has to cancel the Tall Ship Tour a ticket transfer or full refund will be given.
If it rains is there somewhere dry to sit?
The boat does not have a covered area and is open to the elements. We recommend being prepared for all weather conditions with suitable clothing and footwear.
NMMC Heritage Boat Charters Terms & Conditions
The sale of tickets and the operation of the boat tours are by Discovery Quay Enterprises (Trading) Ltd ("DQET"), the trading arm of the National Maritime Museum Cornwall Trust ("NMMC", "the museum").
Acceptance of a booking by a passenger shall be deemed as conclusive evidence of their acceptance of these Terms & Conditions.
Cancellation & refund
We reserve the right to cancel any tour, for example if the weather is deemed too dangerous to sail or if the vessel is out of service.
If we cancel your trip you will be offered a choice of alternative dates but if none of these are suitable you will be entitled to a full refund.
No refunds will be given if you cannot attend your allocated charter.
In the event that the boat breaks down part way through the trip the visitors will be transferred back to the Museum and offered an alternative time or if not suitable a full refund will be given.
Availability and accessibility
All passengers will be provided with a life jacket which will need to be worn throughout the trip.
For children under 5 we are able to provide life jackets for those weighing from 10kg to 15kg. If the life jacket is too large to fit your child then we reserve the right for our boat crew to refuse access onto the boat and a full refund will be given for the group.
We are unable to offer boat trips to under 2s for safety reasons.
Children aged under 16 will need to be accompanied by an adult.
If you have any medical conditions that may affect you while on board (e.g. diabetes, epilepsy, heart conditions, etc.), it is advised that you inform the crew on arrival. Should you be taken ill, we will then be able to get the best medical attention for you.
Due to the nature of our historic boats there is no wheelchair access and we are therefore unable to accommodate for wheelchair users. Please be aware that embarking and alighting the boat maybe challenging for those with restricted mobility.
Dogs are not permitted on the boat trips, however we do welcome visitors with guide dogs and assistance dogs. A dog 'lounge' is available outside the museum in a sheltered and protected location near the entrance with a dog bed, lead tie up and water bowl.
Access to the boats is from the museum's pontoon which at low tide can be a steep slope.
General
Please be aware that we are at sea and we can take no responsibility for the loss or damage of your personal property.
We shall not be liable for the act or neglect of our employees or agents acting outside the scope of their employment.
Our employees and agents have no authority to waive or vary these conditions.
Passengers shall be bound by and shall comply with all regulations and comply with all orders given by the boat crew.
Smoking is not allowed on board or on the museum's premises.
We ask all our passengers to respect other passengers and not to use language that could be perceived as threatening or rude.
Any passenger who is causing a nuisance or disturbance will be taken back to shore and will not receive a refund.
Passengers need to be aware that there is no weather protection on the boat so it is advised to wear appropriate clothing.
The boat tour should take no more than one hour. Should it overrun for any reason, we accept no liability for any resulting costs or damages.
Please feel free to bring cameras, video cameras or binoculars, but no tripods or monopods are allowed.
The boat will leave at the allocated time and is unable to wait for late arrivals.
Combined tickets
Where tickets are being sold that include admission to the museum, DQET is acting as agent for NMMC.