By Linda Batchelor and Lynne Vosper.
This photograph, from NMMC's Collection, shows the barquentine Waterwitch lying in Falmouth Harbour in September 1934. It is part of the Museum's Memories of Falmouth exhibition of images of Falmouth and includes photographs of some of the last of the sailing ships plying the coast.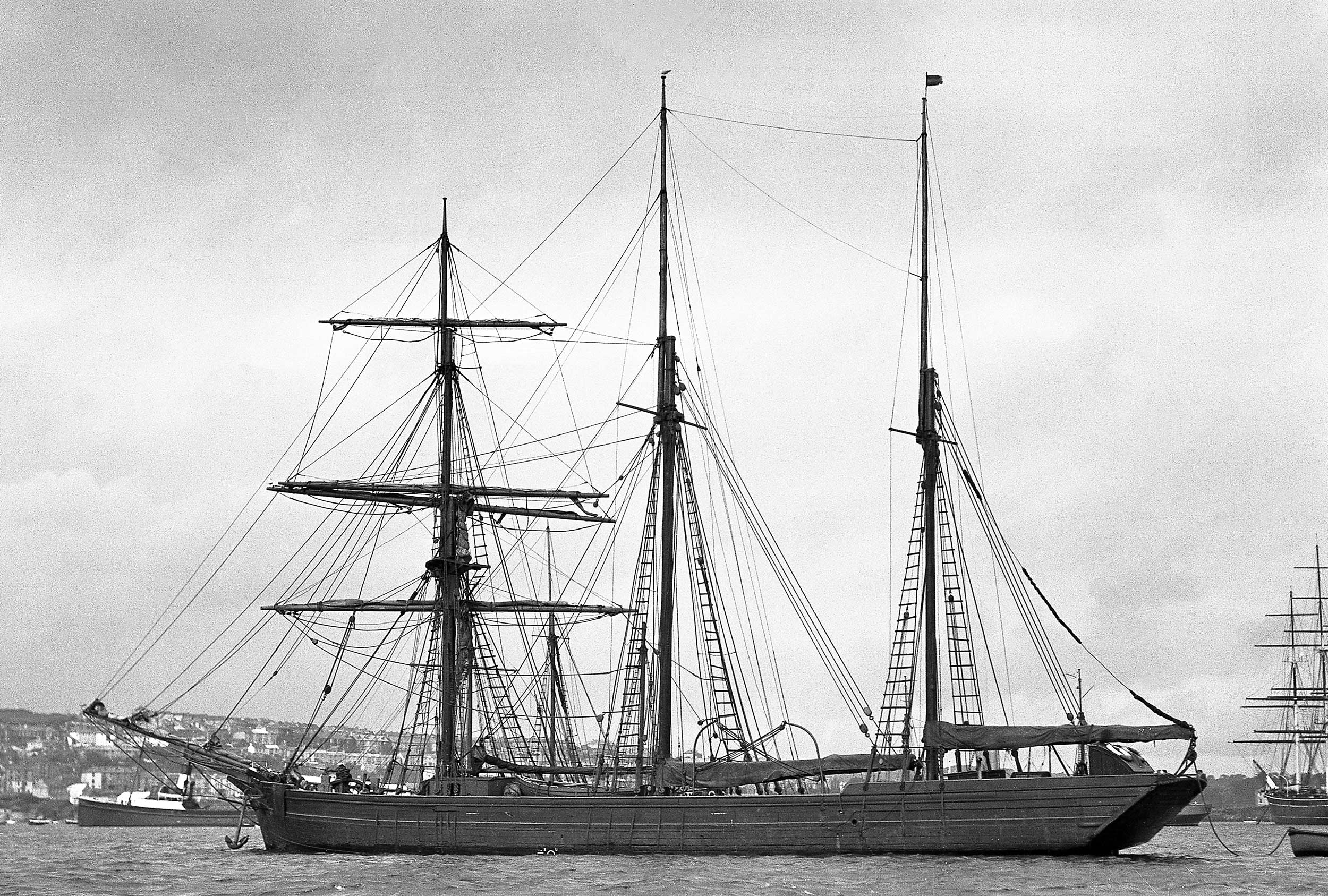 Built in 1871 by the Poole shipwright Thomas Meadus, Waterwitch had spent most of her working life trading in north European waters mainly around the British Isles and France carrying coal cargoes. In 1934 Waterwitch was a well known sight in Falmouth discharging coal at the gasworks, now a harbourside car park but that life was drawing towards its close. By the end of the decade Waterwitch ceased to be the last British square rigged sailing ship to carry cargo around the coast.
The Cornish Connection
Waterwitch was first registered in 1872 in Portsmouth and owned by Henry and James Ash, coal and potato merchants. She was retained by the Ash family until 1905 when she was purchased by Lieutenant Colonel Flowers, also of Portsmouth. Apart from a transatlantic voyage carrying wheat from Montreal to Galway, she mainly carried coal from Seaham in North East England to Portsmouth and the South Coast. In 1910 Waterwitch came into Cornish hands when she was bought by Mr Mutton of Fowey, refitted at Truro and based in Falmouth. After being purchased in 1918 by the Fowey shipowner Edward Stephens she remained in Cornwall, carrying coal and china clay, until 1939 when she was sold to Estonian owners.
A Career Full of Incident
Initially Waterwitch was built as a brig, a vessel with two square rigged masts but by 1884 the ship had been reconfigured as a barquentine, a vessel with a square rigged foremast and the remaining masts rigged fore and aft. This alteration was to improve the sailing qualities and during a long career in the coastal trade the vessel gained a reputation for reliability, speed and power. However it was also a career which was almost legendary in being full of incident. In 1877 Waterwitch was badly damaged by foul weather in the Solent requiring extensive repairs and later was involved in a collision with a steamer, also in the Solent, which caused damage to the bow and bowspit. In 1884 under the command of Captain Madgewick the alterations were made to convert the vessel to a barquentine but unfortunately on New Year's Day 1885 the Captain fell overboard and was drowned. In the ensuing years as a hard working vessel mainly carrying cargoes of coal and china clay around the British coast there were various other incidents which required frequent repairs and replacements.
During World War I Waterwitch had two brushes with enemy submarines the second of which was a torpedo attack which fortunately failed. Fully laden with coal sailing from Runcorn for Falmouth the Waterwitch tried to enter Newlyn harbour in 1916 during a strong south easterly and struck the bottom. Badly damaged along her keel and with the rudder torn off the vessel was barely afloat when finally lifted. Fire had also damaged the stern above the waterline and she was a forlorn sight. However, she was purchased by the Fowey shipowner Edward Stephens and eventually towed to Par in May 1918 and rebuilt by there by Tregaskes.
Edward Stephens transferred the ship to the Fowey register under the command of Captain Charles Deacon of Charlestown a well known and characterful seaman who was captain for the next 17 years. Waterwitch also remained a successful and prosperous coastal trader although she continued to have narrow escapes and incidents such as in 1927 when she was run down off Rock Ferry by the Canadian steamer Highlander. In 1935 Captain Deacon retired and in the spring of 1936 Edward Stephens had died bringing his business of sailing ships to an end. On 5th May 1936 Waterwitch loaded a final cargo of coal at Runcorn which arrived five days later in Falmouth. On 16th May the ship sailed empty from Falmouth for the last time for Par where she remained for the next three years, first in the harbour and then beached, until sold to Estonian owners in 1939. Loaded with a cargo of china clay she sailed for the Baltic and finally sank there off the north coast of Estonia in autumn 1944.
A Happy Ship
Despite a long history of incidents Waterwitch was regarded as a happy ship and there was no problem in recruiting crews. There were up to ten in a crew including the master, the mate and a cook. The crew all ate together and the accommodation was considered to be good of its type.  The ownership remained in relatively few hands over the years and captains were chosen for their sailing abilities, and their qualities in training and managing a successful crew.
Until 1937 British steamship officers wishing to train as pilots needed experience in square- rigged vessels before Trinity House would employ them. After 1929 Waterwitch was the last British vessel able to provide this and in the later 'Cornish' years numerous young officers obtained valuable training under Captain Deacon's command.
The photograph taken from the exhibition is of a sailing ship which had a hard working life full of incident and which, by the time the image was taken, was fast becoming obsolete. Nevertheless it still had an honesty of design and an elegance of purpose which had served it well and makes for memories to be remembered.
The Bartlett Blog
The Bartlett Blog is written and produced by the volunteers who staff The Bartlett Maritime Research Centre and Library of National Maritime Museum Cornwall. Waterwitch – The Last of The Line was written by Linda Batchelor and Lynne Vosper and was produced as a result of the extensive  cataloguing of the Weller photographic collection.
The Bartlett Library holds a Collection of over 20,000 volumes and offers access to one of the finest collections of maritime reference books, periodicals and archival material.
The Bartlett Blog reflects the diversity of material available in The Bartlett Library.