Recently we celebrated with friends and colleagues from the University of Exeter as the two organisations came together to sign a Memorandum of Understanding (MoU). The MoU formalises our partnership and creates a framework for engagement across education, research, and representation, addressing individual and shared priorities, and extending the reach of culture to those previously not engaged.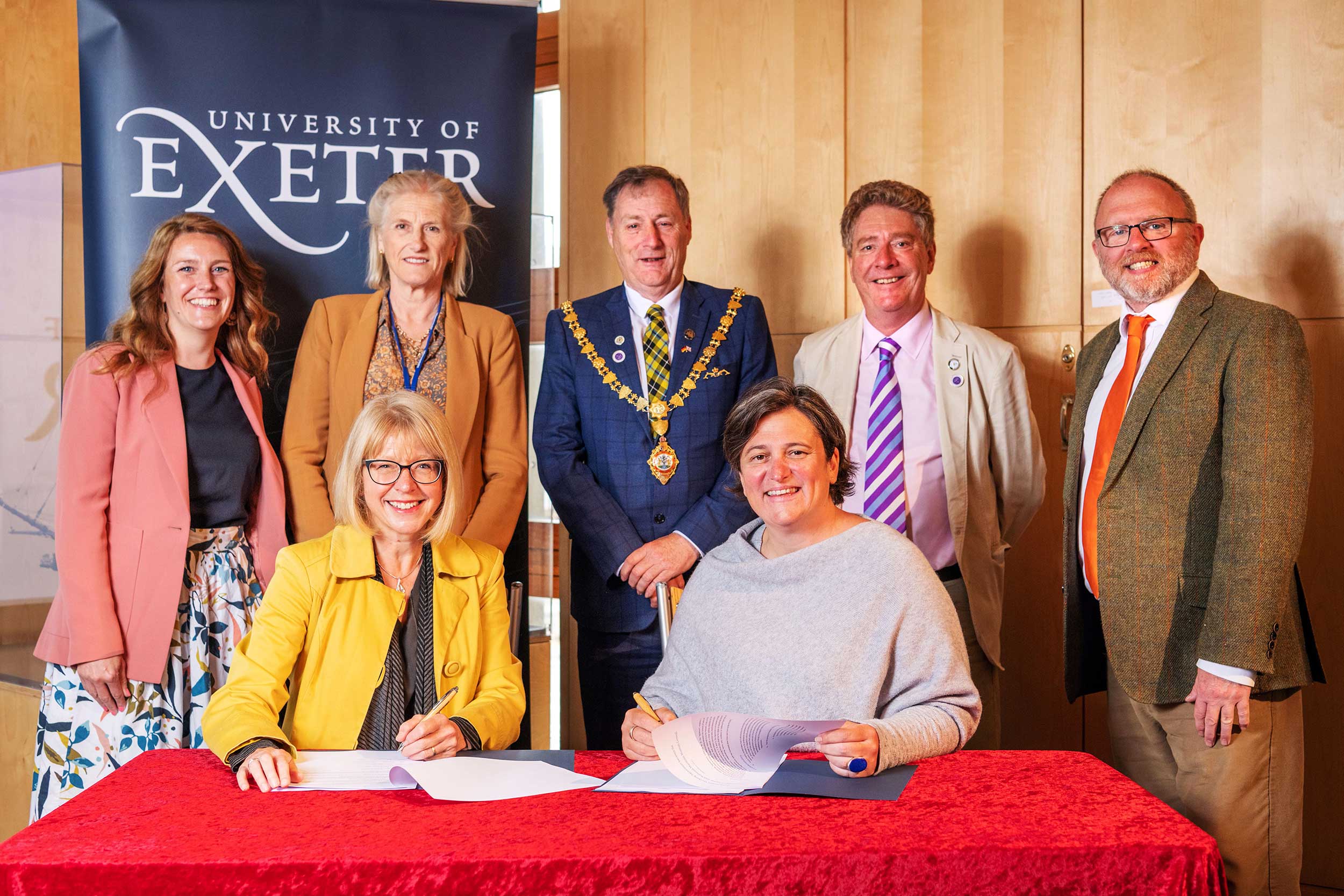 Over the years, the Museum has offered bespoke visits, talks and training for the University of Exeter, as well as student placements and internships at undergraduate and postgraduate level. More recently it has been collaborating with academics to co-create new temporary and permanent exhibitions, showcasing University of Exeter research.
Professor Bryony Onciul, Associate Professor of Museology and Heritage Studies at the University of Exeter, contributed to our current exhibition Monsters of the Deep. She said, "Working with National Maritime Museum Cornwall on the exhibit was an enjoyable and rewarding opportunity. It built on a decade of collaborative work that focused on student experience and education. We are delighted to be able to continue and enrich this important partnership in the future. This agreement marks an exciting next step in our collaboration."
The Museum's programme of major temporary exhibitions are produced in partnership with regional, national and international lending and learning partners, including Cambridge University Library and the British Museum and National Oceanography Centre. Building on the success of Titanic Stories: Contemporary Voices, and Monsters of the Deep, the Museum is establishing a reputation for its ability to present the latest scholarly research (produced by academic partners) in a popular, accessible but culturally challenging way to wide and diverse audiences.
In future staff from the University of Exeter and the Museum will continue to work together on teaching, exhibition development and audience engagement, as well as public lectures. There will also be joint research to reveal hidden details about Cornwall's maritime heritage.
Future collaboration includes joint work on Morek, the Cornish word for maritime, led by Dr Garry Tregidga from the Institute for Cornish Studies, which examines smuggling, fishing, Cornish language and dialect in coastal areas and coastal connections overseas. This will include research projects, student placements and possible postgraduate opportunities
The university will provide advice for the Museum to increase diversity and inclusion in its own organisational culture and practice, supporting a re-assessment of museum collecting priorities, interpretation, new exhibits and displays, and audience engagement.
National Maritime Museum Cornwall's next major temporary exhibition project will explore historical and contemporary piracy through the lens of modern cultural identities. It will show the previously hidden stories of men and women who created new, often transgressive, identities as pirates.
Stuart Slade, Deputy Director of National Maritime Museum Cornwall, said, "The potential of this collaboration for both organisations is enormous. The Museum is able to benefit from cutting edge academic research for its exhibitions – not least around Cornish maritime history – and visitors can see the university's world-leading research."