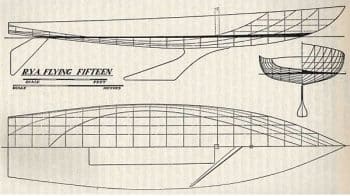 What should a keen racing dinghy sailor do when age begins to take its toll and the 'fun' of capsizing and getting very wet begin to pall?
Some sailors move to racing bigger boats; others however prefer the challenge of like-for-like racing and opt for racing keelboats in a fleet. Hailed by its adherents as "the most popular small keelboat in the world", the Flying Fifteen has been a popular choice of racing keelboat for many, with over 4000 boats built.
The Flying Fifteen owes its origin to Jimmy Damant, a Commodore of the Island Sailing Club in the Isle of Wight, who owned an early International 14. Damant urged fellow Isle of Wight resident and famous designer of numerous boats, Uffa Fox, to "… design a boat like the 14-footer, but at least 18ft long, that will not capsize. Then you would have a sensible, safe boat that was fun to sail as well, for the rough and tumble of tidal waters like the Solent." Uffa Fox took up the challenge and in 1947 drew the lines of a boat 20ft in overall length with a steeply raked bulb keel. The sail plan and mast height were exactly as for the International 14 of the period.
A number of well-known UK builders constructed Flying Fifteens in their preferred methods, which in the early years were wide ranging. Over time hull materials have progressed from traditional carvel, through moulded ply, aluminium and fibreglass, before the latest hulls settled on an epoxy foam sandwich with carbon used in high stress areas, which gives a significantly stiffer structure and long competitive life. Over the years construction tolerances have also narrowed and the design and sail plan have been modernised in a number of respects.
The museum's boat, Flying Cloud, is an early example, number 22, built by Woodnutt in 1950, and is of wooden construction with the skin in two layers, the inner one laid on diagonally and the outer longitudinally, with a layer of calico between the skins. All fastenings are by copper rivets and roves. She was designed to be towed on a trailer and is fitted with a removable bulb keel. Flying Cloud was herself sailed by Uffa Fox in the early 1950s.
To sail, the Flying Fifteen has many of the characteristics of a dinghy, with its ability to plane and the necessity for the two man crew to hike the boat (and still get wet), compared to some other racing keelboats whose behaviour is arguably more sedate. The design is also both less expensive to purchase as a new boat compared to some other keelboats and, due to the introduction of a tri-partite division of the class with different ratings, older boats can still be competitive, making for an active market in older boats for those unable to afford a new example.