Hegarty's Boatyard is one of the latest temporary exhibitions to open at National Maritime Museum Cornwall this year. We caught up with Kevin O'Farrell, the photographer behind the exhibition, to find out more about him and this incredible body of work.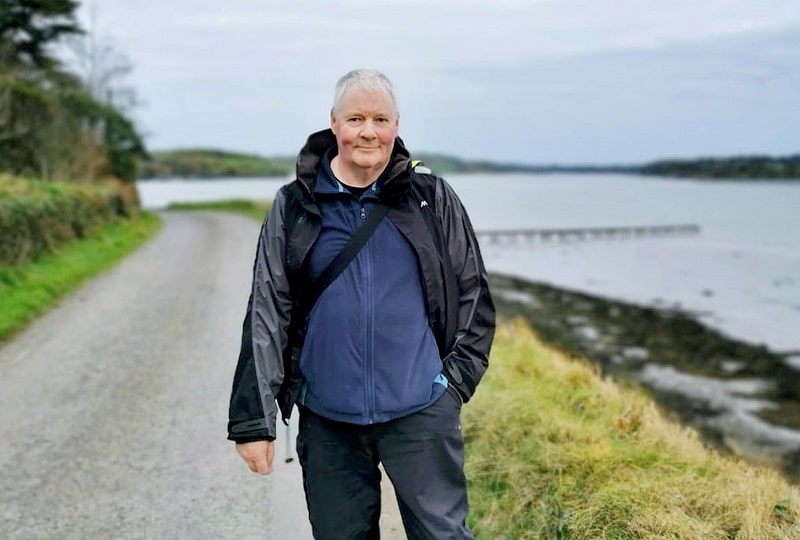 Tell us more about yourself
I grew up along the banks of the River Thames in Henley. My interests in water started early at school – I disliked land sports and tried to avoid them at all costs! Luckily the school had a swimming pool and I tried to spend as much time in there as possible. Living beside the river, I was always exploring along the banks, anything to do with boats I found interesting, which lead me to becoming a cox for Leander Rowing Club. When I became too big for that, I built my own 'stitch and glue' plywood kayak, joined the local Eyot Canoe Club and spent every minute on or in the river, travelling the country to go to slalom competitions.
When I left school I attended Art College to do a Foundation in general arts, it is from this introduction I realised my main interest was in photography. I was lucky enough to be accepted onto the two year course at Newport, studying Documentary Photography, under David Hurn and John Charity.
After college I moved back to live in Ireland in 1980, (first generation returned emigrant, born in Kenya to Irish parents, who originally came from Banagher, Co Offaly).
It sounds like you have a very strong connection to water? What's your connection to the sea?
My wife Jane and myself have always lived by the sea since moving to Ireland. We even spent 13 years living on Heir Island with a beach at the bottom of the garden in Roaringwater Bay, West Cork. When you live on an island the sea and weather occupies an enormous amount of thought, to survive you almost have to become one with it. At that time I was also a senior sailing instructor at the local secondary school in Schull, Co.Cork.
Living on an island, using a boat is part of every day life, more important than having a car. Around West Cork small inshore boats were mainly 15-16ft wooden punts – the first one I owned was built by Fachtna O'Sullivan who works at Hegarty's Boatyard. It was perfect for negotiating the rocky shores around Heir Island and the bay, I also converted it into a sailing yawl.
Is this how you came to know Hegarty's boatyard?
My first connections with Hegarty's yard would have been in the early 1990s. I was in the process of restoring an American designed Charles Mower 18ft Seagull – a day sailing boat that was built in Baltimore, County Cork in 1936. Both Liam and John Hegarty would kindly give advice and help freely whenever I needed it, from that a friendship built, so Hegarty's was a natural place for me to gravitate to.
In 1995 Liam started building the Shamrock a Long Island Mackerel yawl replica, which started my interest in photographing the yard, these were historically important local fishing boats which has lead to a revival in these, and also the smaller Heir Island lobster yawls.
With the arrival of the Ilen (built in the Baltimore Fishery School in 1925) from the Falkland Islands in 1998 and its eventual restoration at the yard, really marks the beginning of my photographic project on the yard at a serious level. Gaining permission and access to photograph uninterrupted over an extended period of time is so important, all at Hegarty's were so kind in putting up with me.
Do you think your work here will ever be 'done'?
My work is still ongoing. Liam has started building probably the most famous Irish boat – the Saoirse (made famous by Conor O'Brien the first Irishman to sail the Tricolour (Irish Flag) around the world, going outside the three main Capes in 1923). I am continuing to record its build. At this stage I am not sure if I will ever stop photographing at the yard, it is a hard place to stay away from, there is always something of photographic interest going on and most importantly a cup of tea!
Which is your favourite photo from the collection?
It is difficult to say which is my favourite, more often than not its the last picture/series I have taken. Many of the older photographs are now like old friends, some were more difficult to photograph than others, trying to capture the essence of boatbuilding without repetition and to communicate photographically what's happening. I find certain photographs stand the test of time in that I have not been able to improve upon them.
I like pictures for different reasons often it can be a few tiny details that build up, for example: Liam standing on the slip hauling up the Peel Castle.
Photography at its best is about capturing a unique moment in time and it is the little things seen at the time of pressing the shutter that make the photograph special. Composition is important, there is balance between Liam and the boat being hauled up, Liam is central to the picture – he stands clear and isolated from what's happening around him, the fact he is standing on a small block of wood (to gain a better view?) with his arms on his hips showing a slight impatience with how the work is going. All these little details seen and captured give me enjoyment when I am editing and selecting the photographs for the exhibition.
What do you want visitors to take away from the exhibition?
I think boatbuilding as a craft has been very underrated in terms of its perception. Every one knows what a potter does, how a bowl or mug is made and there is a given level of skill in that, but I really believe the art of wooden boat building is at the highest degree of difficulty of all the crafts and what is produced is so stunningly beautiful. Hopefully my work conveys this and serves as a tribute to the extraordinary maritime heritage that is practiced daily in Hegarty's yard (and in all wooden boatyards).
Hopefully people can take away an insight into a world fast disappearing, one where skills and traditions are passed down through the generations, and beautiful hand- crafted boats are made with passion and integrity.
Hegarty's Boatyard is at National Maritime Museum Cornwall until Sunday 5 September and the book is available to buy in the Gift Shop.