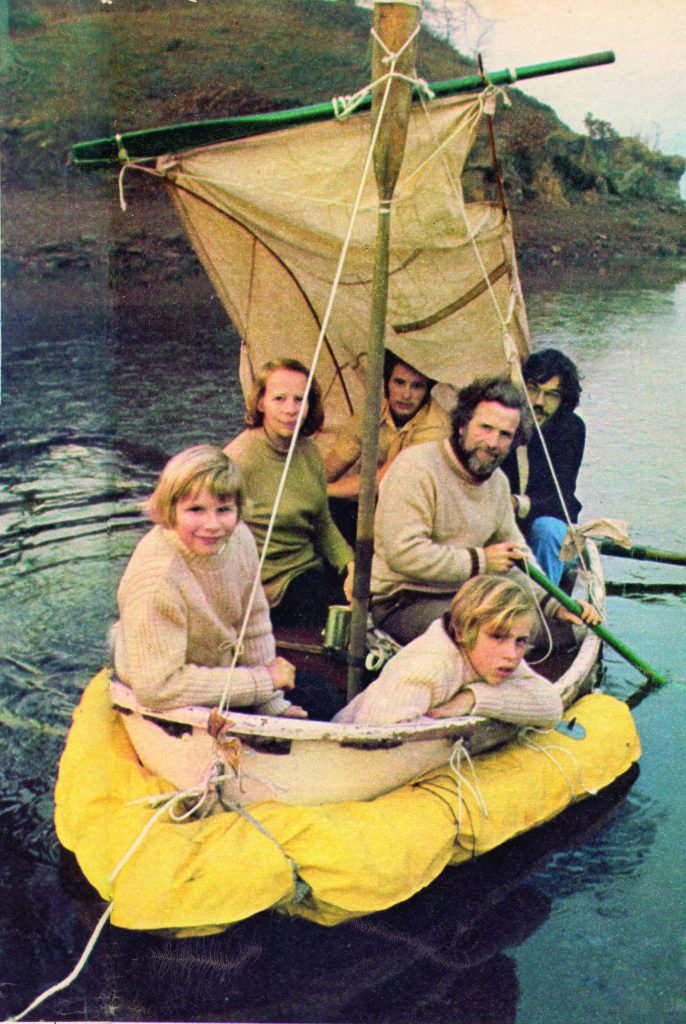 In 1972 this boat saved the lives of the Robertson family as they drifted in the Pacific Ocean for 38 days.
Lyn and Dougal Robertson had bought a 43ft, 1920s schooner, Lucette and planned to sail around the world with their children; leaving Falmouth on 27th January 1971 to embark on the adventure of a lifetime.  Eighteen months into the trip disaster struck, when three killer whales caused damage to the schooner.  With three large holes in the wooden hull, Lucette, sank in just one minute.  This left the family with barely enough time to launch the life raft and dinghy, Ednamair, and grab what they could.  At this point they were 300 miles off of the Galapagos Islands.
All six crammed into the small life raft, shocked and exhausted. They managed to salvage what they could from the wreckage – a bag of onions, a few oranges and a kitchen knife.  Rigging the dinghy with a piece of sail they used it to tow them towards the Doldrums; here they hoped to be able to collect enough water to survive.
For the next five and a half weeks they would fight for their lives, working constantly to keep their raft afloat, catching rain water, fishing, bailing and eking out their meager provisions. Holes started appearing in the raft, and on the 17th day, the floor gave way, forcing them all to take to the open dinghy. They spent the following 21 days in these cramped conditions, surviving through fierce storms and drought, and coping with severe hunger, thirst and exposure; their bodies wracked with saltwater sores and cramp through lack of movement.  They knew that nobody would be out looking for them; no one knew they were in trouble simply because they had not expected to be heard of for some time.
After 38 days at sea they were finally picked up by a Japanese fishing trawler, surviving to tell their tale. Now Ednamair, the little 9ft dinghy, can be found in the Museum's Main Hall along with a number of other artefacts.
The photograph shows the survivors in Ednamair after their return to England.  The group of six included British hitchhiker, Robin Williams, (back right) who joined the Robertson family in Panama after the Robertson's daughter had decided not to continue the voyage.  Little did he realise then that he would spend 38 days surviving within such a close-knit unit.