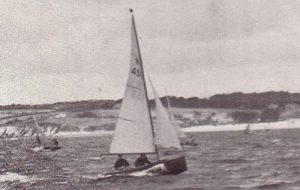 Dinghy designers have often been driven to produce affordable practical designs which help to make sailing accessible to a wider audience.
In 1935 the Yacht Racing Association – the forerunner of the Royal Yachting Association – created the National Twelve Foot Restricted Class. A Restricted Class limits possible adaptations within a set of rules.  The four basic rules at the outset were:
The hull was not to exceed 12ft in length
The boat was not to weigh less than 190lbs when stripped of buoyancy, floorboards and centreplate
The hull was to be of clinker construction
The maximum sail area was to be 90 square feet
A few existing boats could sail under the new rule but there was a problem: one designer, Uffa Fox, was so dominant that no one else wanted to design a National 12 until he had produced something.  Eventually the YRA persuaded Fox to produce his first National 12: the Uffa-King design, seen here in Westwind. Fox himself only built two Twelves, of which Westwind, built for Bruce Banks, is the sole survivor.  She shows the development reached by the most successful Twelve by 1939.
Westwind won the Burton Trophy in 1939, and again in 1950, here in Falmouth, skippered by Bruce Banks. She also won the Yachting World Points Cup in 1947, 1948 and 1950, in addition to many lesser prizes.  She was ahead of other 1939 National 12s in the use of stainless steel rod shrouds, stainless steel wire diamond shrouds, a mast jack, jib luff tensioner and an adjustable centreplate hung on rollers.
Found by Peter Catling and David Reid in a dilapidated condition in 1967, she was carefully restored by them, revarnished, and equipped with contemporary fittings and one of her original suits of cotton sails. She sailed in 1970 and 1971 and proved herself still outstanding to windward, planing easily though unsteadily in comparison with a dinghy of the 1970s.
Since the days of Westwind, the National 12 class has never looked back. Leading designers have produced different variations within the rule, each trying to produce something faster, each making the most of changes in technology and today there are some 3,500 National 12s.
Principal Dimensions:
Length: 12ft
Beam: 4ft 8in
Depth: 1ft 8in
Sail Area: 90 sq ft.
Minimum weight of hull without centreboard: 190lbs
Maximum weight of centreboard: 50lbs.