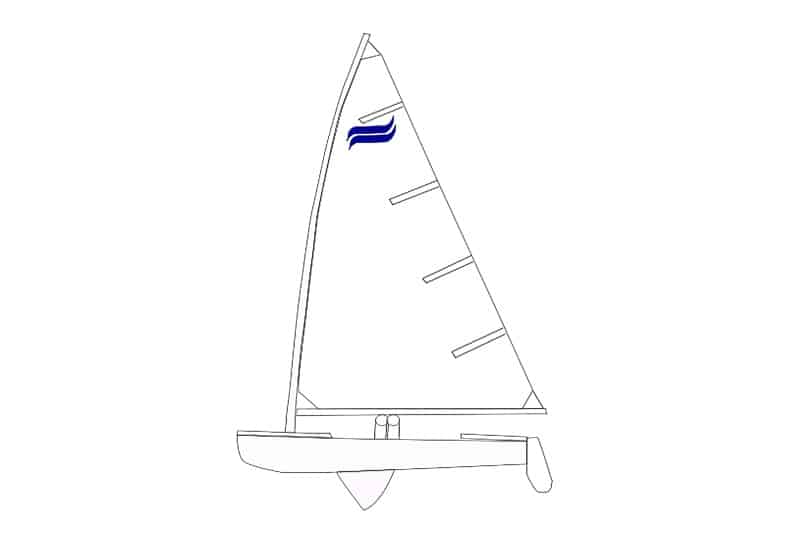 Designed by the Swedish canoe designer Rickard Sarby in 1949, the single handed Finn class racing dinghy was adopted for the Olympics in 1952 in Helsinki, Sarby himself taking the Bronze medal.
The Finn replaced the previous arrangement of having a different single hander design for each Olympiad. Predecessors as Olympic Monotypes, the term originally used in the Olympics for a single handed dinghy, had included boats such as O-Jolle and the Firefly, each covered elsewhere in this series. Since that original introduction the Finn has appeared at every Olympiad, making it the longest serving Olympic class.
In 1996 the Laser was also introduced as a second single hander design. The Laser is suited to lighter weight sailors and the Finn to heavier weight ones, thus allowing competition in two very different weight categories. Although both boats are one design, the Laser is a very simply rigged boat ,whereas there is more scope for the of set-up in the Finn. Because of the weight considerations the Finn is only used in men's racing whereas the Laser is also as a ladies' class, albeit in the form of the Laser Radial, with a shorter mast and smaller sail area.
The Finn was originally built using a hot moulded AGBA plywood hull together with a laminated single mast mounted through the deck and attached to a keel plate. Like most dinghy classes, however, the Finn has adopted the use of newer materials and is now built in GRP with masts made of aluminium or, at the top competitive level, carbon fibre.
The Finn is a class in which British sailors have been particularly successful over recent years, winning gold in five past Olympics, before that the only British success had been a silver medal in 1952.
Seawolf won a number of notable trophies in the early 1960's and after a number of trials was shortlisted for the 1964 Tokyo Olympics.