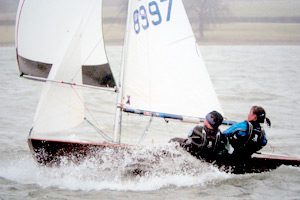 The Cadet dinghy, produced from the drawing board of the prolific Jack Holt in 1947, is a one-design racing dinghy for crews between the ages of 8 and 17.
Cadet is one of many boats designed by Holt in conjunction with Yachting World, whose editor, Group Captain E F Haylock, felt that not enough was being done to get young people out on the water.
Uffa Fox was so impressed with the design he felt "it would be impossible to overestimate her value to the sport of sailing".
The Cadet was also one of the first do-it-yourself plywood dinghies, enabling more people to enjoy a sport which had, until then, been reserved for wealthier sailors.
The boat was purposely designed to be too small for an adult to sail but with all the attributes of a racing dinghy, including a spinnaker. For many years all Cadets were made of wood but for some time the boats have been built in glass reinforced plastic (GRP).
The Cadet dinghy is sailed worldwide in 18 countries over 4 continents. World and European Championships are held regularly. The class has also produced a number of Olympic champions such as Rodney Pattisson.
More recently Olympic Gold Medallist Pippa Wilson said of the boat: "My fondest sailing memories are from my Cadet sailing. The boat gave me such a great level of base skill and prepared me for everything I have done since and I loved every minute. The friends I met along the way are friends for life and we had so much fun and many stories to tell. Sailing has bought so much to my life apart from just competition and everyone should get that opportunity".
The Museum's Cadet, Eddy, sail number 2279, was built in the 1960s by Burton-on-Trent dentist Eddy Hughes, from whom she derives her name.
Designer: Jack Holt
Builders: various commercial and self-build
Length: 10ft 6ins 3.22m
Beam: 4ft 2ins 1.27m
Draft (centreboard down): 2ft 6ins 0.76m