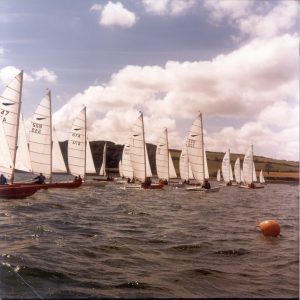 In 1969 two friends, Ian Fraser and Kim Stephens, both successful sailors, formed a company in Restronguet, Falmouth, called Panthercraft.
They applied for a licence to build the Tornado catamaran, which in 1966 was chosen for prospective Olympic status. It's designer, Rodney March, provided Ian with a Tornado as a demonstrator. In those days Tornados were built in wood, but Ian and Kim wanted to use more hi-tech materials, so Panthercraft built the world's first fibre reinforced plastic (FRP) Tornado.
Ian sailed that boat to 3rd place in the 1970 European Championships, and his success led to orders for boats coming from all over the world. Panthercraft boats won all the major international events in the early 1970's and at the peak of its production was building 100 Tornados a year. However the company realised that, in order to survive in a very competitive market, they would need to diversify.
Ian and Kim joined forces with Terry Pearce, who had engineered the building of the original Tornado and, together with Rodney March, they developed the Dart. The first pre-production boat was launched, under great secrecy, from Restronguet Weir, and sailed during the summer of 1975 against a Hobie 16. Very few modifications were made to the prototype, and the first production boat, Dart #1, was built in the autumn of that year.
Dart achieved instant success, combining good looks and speed with a rig that was easy to raise and lower. It also had the ability to be sailed single handed by leaving the jib ashore. The Class has a unique handicapping system and is subject to strict one-design rules, thus giving every crew an equal chance of winning through sailing skills.
Darts have no dagger boards or boom, but one of their most revolutionary features is the mast: there are no unsealed holes in the alloy mast, which means in the event of a capsize the mast provides additional buoyancy and the boat can be righted by one person.
After four years of negotiation with the International Yacht Racing Union (IYRU) the Dart achieved international status, yet it still retains its very strong Cornish links: the ownership of the rights still resides in Cornwall (although the boats are no longer built here), and there is a thriving fleet at Restronguet Sailing Club. Some 8000 boats have been built.
Dart #1 was sailing, and winning races until quite recently. She was donated to the museum by Ian Fraser.
Type: International Dart
Designer: Rodney March
Builder: Panthercraft
Date: built 1975
Dimensions: length 5.48m; beam 2.29m; draft 0.25m; mast height 8m; sailing weight 130kg
Construction: FRP
Rig: Bermudan sloop