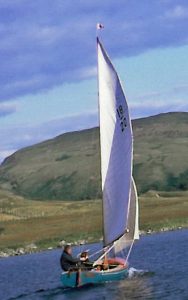 The National 18 was born in 1938 following a design competition organised by the then YRA (now RYA) and Yachting World magazine.
The original idea was for an 18 ­foot sailing dinghy, suitable for day sailing, yet fast enough to be of interest to racing sailors and at a reasonable cost. The plan was to produce an affordable national alternative to the many local  one­-designs of about this size to be found right round the coast of the British Isles.  Many of these local estuary classes survive today, for example the Mermaid in Dublin, Thames Estuary OD, Chichester Harbour 18 etc.  The well­ known designer Uffa Fox won the competition with his 'Ace' design for a clinker ­built wooden boat.
Initial enthusiasm was held back by the effects of World War II but a good deal of 18 building got underway soon afterwards, when mahogany was again available for boat­ building and the class  became active especially in the Thames Estuary area.  By 1950, fleets had appeared at clubs dotted all around the British Isles and Ireland, the Class Association having been formed in 1947.
By the mid 1960s, competition from the ever ­increasing number of smaller, lighter dinghies,  especially the many new GRP built classes, almost consigned the racing 18' to history. However various rule changes, including the use of GRP, adopted by the class association over a number of years have maintained interest in the class and many 18 sailors today are the  second and third generation of families who have long appreciated both the boats  and the lifetime friendships within the class. There are now four recognised versions of the class representing various key stages in its developments.
The Museum's example, Timballo, is an early boat from 1938.
(Text excerpted from the National 18 Class Association website)