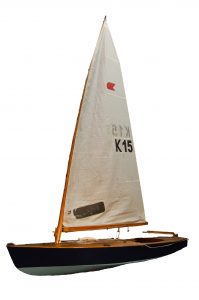 The OK is a classic design that has stood the test of time and remains to this day one of the most widespread international dinghies, with a loyal worldwide following. It is sailed in over 20 countries and has inspired many sailors to become involved in the sport.
The OK was the brainchild of Danish architect Axel Damgaard Olsen who, by 1956, had already introduced the Optimist dinghy from the USA into Europe.  He saw the need for a fast, singlehanded boat with a simple unstayed rig, which would be exciting to sail.  He provided the inspiration for his friend Knud Olsen, the Danish yacht designer, to draw up the plans for the OK.
The boat was to be named KO, after Knud's initials, but as this means cow in Danish they had to think again. The first 70 boats were built in Denmark between 1956 and 1957.  They were considered easy for home building, having a hard chine and relatively flat bottom panels.  However the boat was considered by some to be dangerous, as it was increasingly being sailed by keel boat sailors not used to the relative instability of a small dinghy.
Despite this, the OK's popularity spread worldwide, and by the 1970s several thousand boats had been built, apparently filling a gap in the market for sailors who could not afford to own more expensive performance craft such as the Finn. By 1974 it had achieved international status.
The Museum's OK, Ping Pong, was built in 1961 by Mr Patton, who built several dinghies for himself and others in the back of his watchmakers repair shop in Bath, UK. He was also a successful sailor and sailed the dinghy in the Olympic trials of 1963, when it was thought that the class might be involved in the Tokyo Olympics of 1964. Ping Pong was sold out of the Patton family in 1968.  She was donated to the National Maritime Museum Cornwall by the OK Dinghy British Class Association in 2008.
Designer:                               Knud Olsen
Hull length:                           4.0 metres
Beam:                                     1.42 metres
Mainsail area:                       8.95 square metres
Weight:                                  72kg
Numbers built worldwide:   approx. 15,000