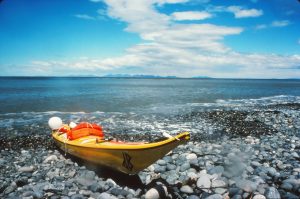 In 1975 four members of the British Kayak Expedition completed a journey from Bodo to Nordkapp in Northern Norway, Europe's most northerly point. Their chosen craft for this pioneering expedition was a kayak designed by Frank Goodman – the Nordkapp.
The 480 mile journey, which took a month to complete, was undertaken through the worst summer in Norway since records began, but the kayaks performed excellently in the difficult conditions.
The expedition needed a boat that was reasonably fast, capable of carrying 90 kg and, above all, was able to maintain its performance in extreme weather conditions.
There were a number of features that, although commonplace now, were unique to the Nordkapp design including:
the provision of watertight hatches on fore and aft decks, together with internal watertight compartments sealed from the cockpit area
a hand operated bilge pump, installed on the rear deck, to allow the cockpit to be pumped dry in the event of a capsize
zeck fittings moulded into the deck of the kayak, allowing deck lines and elastic fastenings to be neatly fitted to the boat
a moderately veed keel and the fitting of a removable skeg to provide greater directional stability. After the Nordkapp expedition a skeg was permanently moulded to the hull.
Although similar-looking to an Inuit kayak, the Norkapp was designed from Frank Goodman's own experience of paddling kayaks on the sea and in surf, coupled with hydrodynamic knowledge gained from his slalom kayak designs.
The members of the Nordkapp expedition made a thorough and detailed record of all their findings, from design and modification of the kayaks through to a detailed journal of the expedition itself, and the lessons learned from it enabled longer and more hazardous journeys to be undertaken, including the first rounding of the notorious Cape Horn by kayak in 1977 when Frank Goodman, together with three colleagues, completed a three week, 250 mile voyage.
Construction material: glass reinforced plastic (GRP),
Dimensions:
Length: 5.45m (17ft 10ins)
Beam: 0.54m (1ft 9ins)
Depth: 0.37m (1ft 2ins)
Designer: Frank Goodman
Builder: Valley Canoe Products Ltd