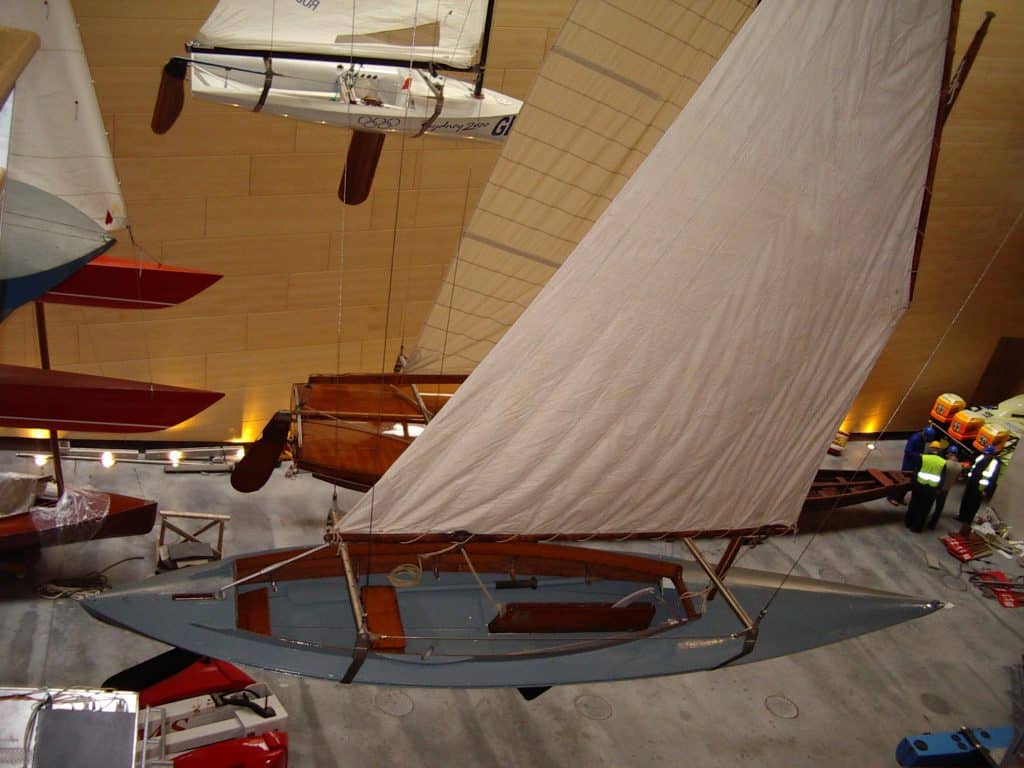 Shrimp is the first of the Norfolk Punt class, one of Britain's oldest high performance classes.
The class evolved directly from traditional working gun punts used for hunting wildfowl in the shallow waters of the Norfolk Broads. At the end of his wildfowling, a huntsman would erect a small mast and sail home. The mast and spars had to be small enough to fit inside the punt; thus the lug sail with its short spars.
Modern Norfolk Sailing Punts are very fast racing dinghies. They retain the narrow hull of Shrimp but have much larger, bermudian rigs, making them potentially unstable but one of the fastest centreboard classes around.
Shrimp was built nearly a century ago as a waterman's punt used for duck hunting, yet she is also the first of a class of powerful modern racing boats that can provide a ride as fast and as exhilarating as any modern dinghy. She is typical of a boat that, having evolved from a working vessel, was modified and adapted for use as a pure racing dinghy.
Under sail traditional punts were fast. Fierce rivalry developed between the watermen to race to and from the best hunting sites. The watermen also raced their boats for fun at local regattas, known as water frolics. These often ended in fights between rivals but the spirit of competition encouraged development of the class.
By the 1920s the speed of these boats was attracting the attention of leisure sailors: for example in 1924 Shrimp's rig was enlarged and a centreboard was added for racing. By 1926 the Norfolk Punt was established as a class and Shrimp was made number one. Restricted class rules were introduced that allowed experimentation in design without losing all the characteristics of the traditional boats. Today the class has developed into one perfectly suited to its specific area, equipped with tall rigs to catch the wind above the trees.
Shrimp is part of the National Small Boat Collection, held at the National Maritime Museum Cornwall.