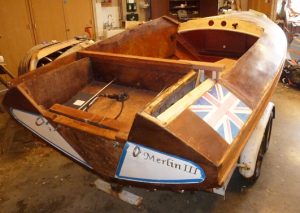 Merlin III is a part of a whole family of fast motor boats with good performance in all conditions which were designed by Bill Maloney beginning with the 12ft Sorcerer in 1961.
It is likely Merlin III is one of a group 16 or so 16ft plywood hulls built c. 1967.
The inspiration for the design came from a study of the flying boat hulls of the 1930's and led to the development of a family of 12 'warped bottom Vee' hulls from 8ft to 25ft giving speeds up to 60 knots. The development of these craft was achieved by building a series of simple plywood hulls to perfect the shape so as to provide flat and level drive without pitching even in lumpy seas, and efficient flat drive through "the hump" (where the bow lifts up as power is applied to get onto the plane), thus allowing smaller engines to be used.
Both the 15ft Merlin III and the 20ft Bewitched were very successful in Offshore Racing in the mid/late 1960's. In 1967 two Maloney-designed craft Bewitched and La Sorciere did very well in the Cowes Torquay Race, with Bewitched, the smallest boat in the race, finishing 6th overall beating many larger and more powerful craft.
The designs continued to be produced by various builders, initially still in wood but later in GRP. The original hull form was still being used until recently in the Sorcerer 760 RIB, regarded by many as a classic in terms of powerboat performance.