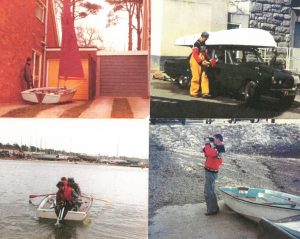 Joy is a TV Times Dinghy, one of several examples in the Museum's collection from the 1950's onwards of a dinghy sponsored by a newspaper or magazine.
Other examples include the well-known Mirror (sponsored by the Daily Mirror) and Enterprise (sponsored by the News Chronicle) and the less well known SigneT (sponsored by the Sunday Times). There were other examples too, not in the Museum's collection, such as the Express (sponsored by the Daily Express).
The TV Times dinghy illustrates a unique but short lived form of construction utilising injected polystyrene into the mould and then skimmed in GRP. Intended for family use whether for sailing or rowing this dinghy was light enough to be car-toppable and its construction made it easily repairable. Poly styrene construction later evolved into injection moulded plastic, a technique still used for all kinds of craft. This method produces a craft that is both heavier and less rigid than pure GRP construction but much more robust, with no fragile outer gel coat.