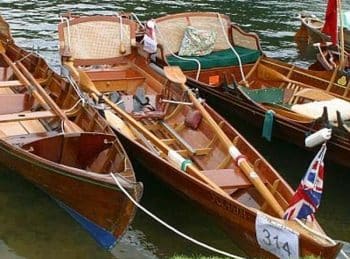 Traditional Thames rowing boats, the type of craft described in Jerome K. Jerome's 'Three Men in a Boat', have four distinct styles.
The largest boats are the magnificent ceremonial barges still used by some livery companies on grand occasions. The three smaller ones are very similar at first glance. The skiff is often confused with the Thames wherry and Thames gig which are all closely related to each other.
The Thames wherry was the tool of the professional boatman and for many centuries was London's taxi service. The Thames gig was the racing version: light weight and fitted with the familiar rowlocks or outriggers on the gunwale. Rowlocks are more properly called crutches, but like so many nautical terms, definitions and their usage vary widely.
The Thames skiff developed as a leisure boat, it has an extra plank, known as a sax board, above the gunwale, with open tholes through which the sculls (oars) are used.
Skiffs were used on the upper Thames for pleasure purposes. Lighter than the wherry they evolved as the type of craft suitable for the burgeoning leisure boating industry in the late 19th and early 20th centuries. Many older boats are still taking part in races and rallies today, and new skiffs are still being built in Thames boat yards.
The method of building, clinker construction using overlapping planks, has its roots in Viking boatbuilding technology and produces a lightweight and strong hull. A similar type of craft can be seen in the Norwegian Oselvar boat currently (December 2011) on display in the Museum. Rowing is hard work and skiffs are long and thin to help them to move easily through the water and give some directional stability.
The Thames skiff in the Museum's collection was built by Hammerton of Thames Ditton in 1905 and all her equipment is original, including part of the original cane in the back seat.