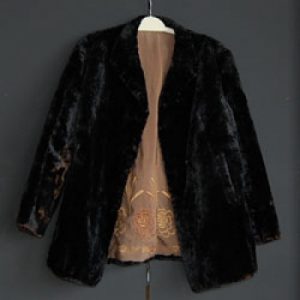 On display in our popular 2009 Titanic: Honour & Glory exhibition was a coat belonging to Violet Jessop. She was a first class ocean liner stewardess and nurse who became famous after surviving two White Star Line disasters. The first was the sinking of the RMS Titanic in 1912 and then the HMHS Britannic in 1916. She was also on board another White Star Liner, the RMS Olympic.
Violet was one of the lucky people to survive following the sinking of the Titanic. Whilst being ordered into a lifeboat, Violet was handed a baby to look after by one of the officers. Once on board the RMS Carpathia, Violet says that a woman grabbed the baby and rushed off.
Jessop's story involves an interesting and incredible array of events. Violet was on board accidents with all three of the White Star Liners. Before joining the crew of the Titanic, Violet worked on the Olympic and was present when it collided with HMS Hawke, causing serious damage to each ship. She was then part of the crew of the Titanic disaster of 1912, and then finally in 1916, during the war, was on board the Britannic when the ship struck a mine and sank in the Aegean Sea.
Violet's nieces do not know where the coat was purchased, but have assumed that it was acquired at a New York port. Her family do know that she adored the coat.
This coat formed part of the exciting Titanic: Honour and Glory exhibition which was on display at the Museum until 21st June 2009.
April's Curator's choice has been guest curated by Tom Weiner, a student at Exeter University, Tremough Campus.