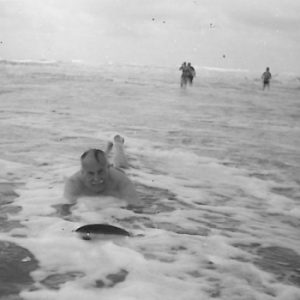 Like many other British families, the Knight family took their holidays in Cornwall. From the 1920s the family enjoyed the sea and sun in Bude on the north coast. This photograph was taken on a trip in 1957, and Geoffrey Knight is on his old 1920s wooden bodyboard.
Geoffrey, his parents and his siblings came to Bude throughout the 1920s and 1930s, making the most of the Cornish sea and surf. In later years Geoffrey brought his own young family to Bude for their holidays, and this photograph was taken by his son Robert in 1957. Robert himself also took his father's old wooden bodyboard out into the surf during these beach holidays.
Surfing, including bodyboard surfing, came to England from Hawaii. It was first observed by Europeans when Captain Cook and his ships arrived in the islands in the 18th century. Through the involvement of European-Americans, surfing spread from Hawaii to California and Australia in the early 20th century. It soon reached Europe and England, where the Knight family joined in during the 1920s. This was when, as a young man, Geoffrey Knight acquired the wooden bodyboard seen in this photograph, etching his initials into the surface.
The spread of surfing fitted well with the English tradition of holidaying at seaside resorts. Improvements in transport and economic conditions during the 19th century and into the 20th century meant that beach holidays became ever more viable for British families. Thus it was for the Knight family, in its different generations.
This photograph, part of a small collection, was recently donated to the museum along with the wooden bodyboard. You can see a selection of the photographs on display in the New Acquisitions Case from early March until the end of May 2014.
If you have anything you would like to offer to the collections of the National Maritime Museum Cornwall please follow the link to Our Collections where you will find contact information for the Collections Curator.
If you've enjoyed this Curator's Choice you might also like Surfers' best friend and Design from Tris Surfboards.