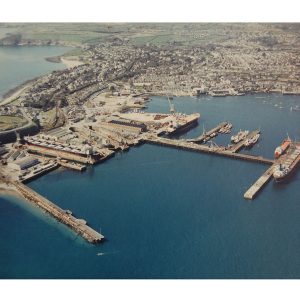 Falmouth docks have a long and complex history and are as much an integral part of the port now as ever. With the removal of the Packet service in 1850, the port started a steady decline in wealth. This was averted with the opening of the new Falmouth docks just a few years later in 1860. It made a huge impact on the fortunes of the town. The docks allowed ships from all over the world to take advantage of the natural geographical features; a sheltered deep water port close to the Atlantic.
This aerial shot of the docks was taken 100 years after it first opened, in the 1960s, soon after a huge period of change and upgrading in the docks. The Duchy and County wharves were completed in 1956 and the largest engineering feat in the docks' history, the construction of the Queen Elizabeth dry dock, was completed in 1958. The building of this enormous new dry dock, one of the biggest in the country at the time, involved blasting and moving the cliff face behind. The new dock could accommodate ships of up to 100,000 tons.
The photograph shows the Eastern breakwater in the foreground (bottom left) with County and Duchy wharf, King's wharf, Empire wharf, Queen's wharf and Northern wharf in the centre (left to right). A large cargo ship can be seen in the then recently completed Queen Elizabeth dry dock.
In the background we can see the Bar and Arwenack areas of the town, much of which looks very different today. This area, which was once dominated by traditional boat builders, looks almost empty in this 1960s photograph. In later years the residential area of Port Pendennis, built by entrepreneur Peter de Savary, was placed on the site to the left of County wharf. The old submarine pier near the Killigrew monument at Arwenack was demolished in 1985, having stood on the spot for nearly 100 years. This area has since been reclaimed and the Maritime Museum and Events Square complex now sit on this site.
The layout of the docks themselves have changed considerably too since the photograph was taken. The most significant changes are that King's wharf and Empire wharf have recently been demolished. The old Queen's wharf shown in this picture was dramatically destroyed by fire in 2003 and was rebuilt shortly after.
Falmouth docks remains an important centre for ship repair, and now also accommodates the superyacht builder Pendennis Shipyard, in a return to the traditional boatbuilding heritage of the area. No doubt in another 50 years time there will be many more changes again. Only time will tell.
This photograph has recently been donated to the museum and can been seen by appointment.
If you've enjoyed this Curator's Choice you might also like The Docks in Detail, Falmouth Harbour Police and Model of Falmouth Docks, 1956