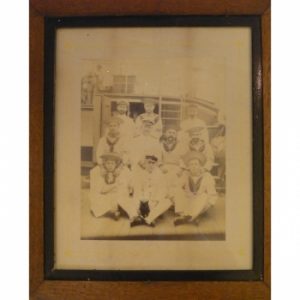 William Rogers, one of the men shown in this photograph, was born in St Keverne in Cornwall in 1865 to Thomas and Alice Rogers. He was one of 7 children, with sisters Ann, Mary and Elizabeth and brothers Richard, John and James.
William began his naval career at 15 years old – the 1881 census lists him as a boy, Second Class, on HMS Ganges. For many years in the late 19th century HMS Ganges was moored in Falmouth, and aboard her the Royal Navy trained boys in seamanship and gunnery. As a local boy, this was an obvious route into the Navy for Rogers.
Any boy aged between 15 and 17 years old when they joined a Royal Navy training ship were listed as 'Second Class'. To enter a Navy training ship, a boy had to be adequately tall and fit and had to have a 'good character'. William Rogers' service record shows that he met these criteria (being 5' 7'' by adulthood), particularly in terms of his character references which are listed as 'Good' and, more usually, 'Very Good' throughout his career. His record also details that he followed navy tradition in tattoos, and had an anchor tattooed on the back of his left arm.
William had this photograph framed and sent home to his mother in Trythance – written on the back of the frame is 'Mrs T Rogers, Trythance Farm, St Keverne, Cornwall'. Given that the crew are in hot weather uniform, which looks to be of the 1880s or 1890s, it is likely this photograph was taken early in his career when Rogers was aboard either Boadicea, in the Cape Squadron, or on Cordelia at the China Station. As a young man, he would have been one of the men in the bottom row of the photograph seated on the deck – on the left or right, as a Boy, First Class, if this photograph was taken on Boadicea, or in the centre in Petty Officer uniform if on Cordelia.
William officially enlisted in 1883 when he was 18, and went on to serve on a number of different ships throughout his career. The notation PN in the Navy records shows that he passed the Navigation and Pilotage exam, and that he was using those navigation skills in his postings. He was promoted to acting boatswain in 1895, a career path he followed for the rest of his naval career – the 1911 census has him listed as boatswain aboard HMS Kent on the China Station at the age of 44 years old. By then he had also married (to Annie Clara Sturgeon in 1894) and had a daughter named Annie Florence, of about 15 years old in 1911. He was still serving in 1914 when he was posted to the battleship Illustrious, at that point an old battleship and not in the first line.
This framed photograph was recently donated to the collection. If you have anything you would like to offer to the collections of the National Maritime Museum Cornwall please follow the link to Our Collections where you will find contact information for the Collections Curator.
If you've enjoyed this Curator's Choice you might also like HMS Ganges and Thomas Lewis, Service at sea and A life at sea: the career of Samuel Riley Valler.