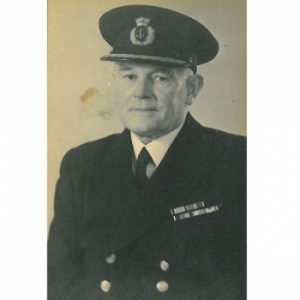 Samuel Riley Valler was born on 15 February 1884 in Falmouth. He had an interesting career rising from seaman to Master, service in two world wars, and mentions in despatches in both. He experienced many exciting developments and changes during his time at sea, which spanned the period from the end of the sailing ship, through steamships, and diesel engines, turbo-electric propulsion, and into the very beginning of nuclear powered vessels.
We have recently received and catalogued a collection of Samuel's documents which provides us with an insight into, not only his life, but also other aspects of society and seafaring bureaucracy during this period. Documents such as Samuel's hardback bound Board of Trade Continuous Certificate of Discharge (No 278349) tells us about the ships he served on, departure and arrival ports, and even the Master's view of his character on each of the voyages. The first record we have is dated 24 May 1903 on the Madagascar, registered in Glasgow where he is recorded as third mate arriving in Antwerp on 26 May 1903. We can deduce that he was already on board as a seaman and was promoted to third mate as the entry shows the Place of Engagement as 'At Sea'. His next recorded voyage was from Barry in South Wales on board the Penlee departing on 15 September 1903 as Third Mate travelling via the Mediterranean to Kustendje, a seaport in Romania on the Black Sea.
We can follow his career over subsequent years using his Continuous Certificate of Discharge. One example is an engagement as 2nd Mate on the SS Duke of York (2362 tons, 270H.P. engine, registered in the Port of Whitby), departing Cardiff on 18 January, 1906. He was promoted during this trip to Mate on 14 April 1906, arriving in Newport on 21 April 1906, having travelled via the River Plate.
What do we know about the man himself? Various official documents tell us that he was 5 feet and 8 inches tall, had dark hair, brown eyes, a dark complexion and no other distinguishing marks (however we do know that he acquired an anchor tattoo on his left forearm later in his career). We also have photographs of Samuel at various ages in both uniform and civilian clothing and we also have a full set of his fingerprints on his British Seaman's Identity Card issued by the Ministry of War Transport in 1940. He was a man of good character and aptitude judging by the reports from the various Masters he worked under as all 34 reports of character for both ability and general conduct are 'very good'. He gained his Certificate of Competency as Master 'for Foreign going Steamships only' on 26 October 1907. We also know that he was issued with medals and was commended by the King in both 1918 and 1941. The 1941 notice commends Captain Samuel Riley Valler as he has been brought to notice for brave conduct when his ship encountered enemy ships, submarines, aircraft or mines.
The collection also includes photographs taken in and around Falmouth, a number of which Samuel must have inherited from his family, some of who were Packet Captains. Amongst the oldest is a photograph dated 1862 showing Market Strand in Falmouth that allows us to see a variety of ships and people. Another series of three small photographs taken in March 1909 from above the town looking over the harbour towards Flushing can be joined to provide an interesting panorama looking approximately north through to east. There is snow on the ground, and we can see a forest of masts of the many tens of sailing ships at anchor. Interestingly, another photograph dated 1903 shows a cargo steamship, SS Renwick, stranded on Gyllyngvase Beach showing that steam had not yet displaced the majority of traditional sailing vessels. Samuel may be an example of this transition as his Masters Certificate of 1907 also notes that he is 'entitled to act as 2nd Mate of a square rigged sailing vessel'.
Samuel was retired in Cardiff with his wife residing at various addresses up to the time of his death in July 1952, but apart from one photograph we know nothing of his wife from this collection.
This collection of documents and photographs is not currently on display, but appointments to view the items can be made via the Curator.
This month's Curator's Choice has been researched and written by Archive Volunteer, Colin McLaren.