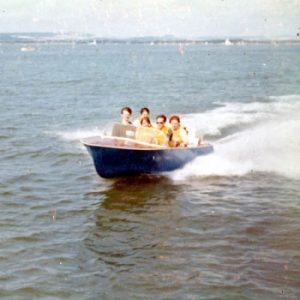 During the 1950s and 60s the British population was discovering new leisure activities: people had more time and a bit of money to spare, package holidays and outdoor pursuits were becoming popular.
Boat designers found a ready market in the thousands of people who wanted to get on the water in a well-built, cheap boat. DIY boatbuilding had arrived.
Against this backdrop of social change Paul Rietchel, a pupil at Ampleforth College in Yorkshire, studying for his 'A' Levels in 1965, found time to build a speedboat from a set of plans over four school terms.
The big difference between this and other simpler designs was that, instead of starting with a kit of pre-cut parts, his boat had to be built from the raw materials, using skilled carpentry and joinery techniques.
Born in 1947, Paul Rietchel built his boat between September 1963 and December 1964, which spanned the first four terms of the sixth form. From an early age he showed an aptitude for practical work, having been given tools, nails and wood when he was five. Academic education was considered important at the school, but craft skills helped provide a fully rounded education, and the school timetable allowed a lot of time for learning activities outside the classroom.
Paul made small items during carpentry lessons at preparatory school, which led to his being encouraged by his carpentry masters – monks from the nearby Abbey who ran the school – to make more ambitious pieces of furniture. By the time he reached the sixth form at the age of 17, Paul had built many items of furniture including coffee tables, bookcases and cupboards.
Powered by a 50 horsepower outboard engine, Paul's 14ft boat, which he named Venture, was capable of achieving speeds of up to 30 mph. She was made from planks of mahogany and oak and sheets of marine plywood, from a design by Product Promotions of Poole, Dorset.
A solid mahogany keel is joined to a laminated stem, with mahogany frames and stringers, and an oak transom. The hull and decking are constructed from marine plywood, which is glued and screwed round the frame profile.
The fit out of the boat's interior was left largely to the individual builder. In Paul's case he employed a large number of furniture joinery techniques to create a strong, functional and stylish interior.
Four seats were incorporated, together with watertight lockers, two of which were deck-mounted and could be removed in a single piece to facilitate cleaning. The boat was finished in a tough polyurethane paint and varnish system.
Venture was used over many years for waterskiing and leisure boating holidays.