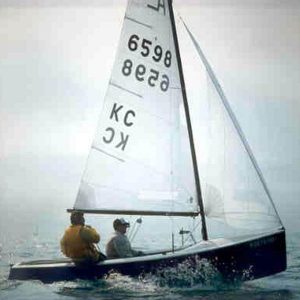 In 1954 a group of dinghy sailors from clubs in the Solent area collaborated with Fairey Marine's Charles Currey, an Olympic silver medallist in Finns, in an attempt to come up with a boat that would be modern, light and able to cope with the often rough Solent conditions, but suitable for family sailing as well as racing.
By rights a boat designed by committee should not have worked, but the result, the Albacore, became an immediate success.
The designers opted for a larger version of the already successful Firefly, designed by Uffa Fox. They took as the basis of their design the Swordfish dinghy, also from the drawing board of Uffa Fox, but a boat which never gained popularity. By combining the best attributes of the two boats a fast 15ft dinghy was created which weighed only 240lbs.
All boats made by Fairey were named after their aircraft and the Albacore was no exception. The techniques used to build their aircraft were transferred to production line dinghy building, in particular the mass pre-cutting of parts and the use of thin veneers of wood saturated and glued together with waterproof glue. The completed hull would be transferred to a hot pressurised oven, or autoclave, for final curing.
The class was an immediate success, with 30 boats being registered in the first year and 25 boats entering the 1st National Championships, which were won by Jack Bowers in boat number 5, Plain Jane.
The masts on early boats were of extruded aluminium with a wooden tapered top section, as tapering techniques in aluminium had not been perfected by spar makers. The mast was fitted with a fixed gooseneck so that when the boom swung out to one side the mast rotated. Cotton mainsails and jibs were used with sheets passing through slotted side decks.
By the late 1950s sales of Albacores had risen to over 500 and fleets were building up in the UK, Malta, Cyprus, Gibraltar and Singapore. This was principally due to the Royal Air Force adopting the Albacore as its recreational boat.
In 1958 the Mk II Albacore was introduced. The stern deck had been removed, a wooden centreboard and stainless rigging fitted. The foredeck was also modified by removal of the breakwater and reshaping the deck with curvature to clear the water. An all-aluminium tapered mast was also fitted.
In 1963, the Albacore was granted 'National' status and the administration of the class was taken over by the Royal Yachting Association.