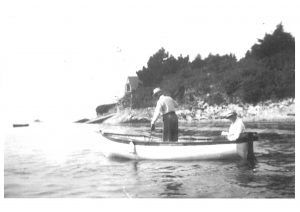 White Owl, an innocuous looking boat typical of the thousands of small craft built in Falmouth yards over the last few centuries, was built by Thomas Jackett in 1908 and owned by the same family since she was purchased.
At just over 15ft (4.6m) in length she cost £7.50, or 50 pence (10 shillings) per foot.
Known locally as a punt, this open rowing boat is built of pitch pine on oak. She was probably used solely for pleasure purposes – fishing trips, some gentle exercise and the occasional picnic perhaps – on the sheltered waters of the River Fal.
Jacketts was one of many yards in the Falmouth area that made a living from the huge trade in boat transport. It's easy to forget that, before main roads, the most efficient communication routes in many parts of the country were its waterways. Once large ships had docked from the open sea, thousands of tons of goods were transferred to smaller craft every day for onward transmission using rivers and canals, which often stretched far inland.
The yard also built bigger boats, including a number of Falmouth quay punts, the workhorses of local inshore waters, and a number of gentlemen's yachts. Probably Thomas Jackett's most well-known customer was the famous painter Henry Scott Tuke, RA, who purchased two of the yard's quay punts over a number of years and discovered, like many others, that this type of working boat could be converted to an excellent pleasure boat.
White Owl was donated to the Falmouth Maritime Museum in 1994 and has been undergoing major restoration by a master shipwright in the Museum Workshop.