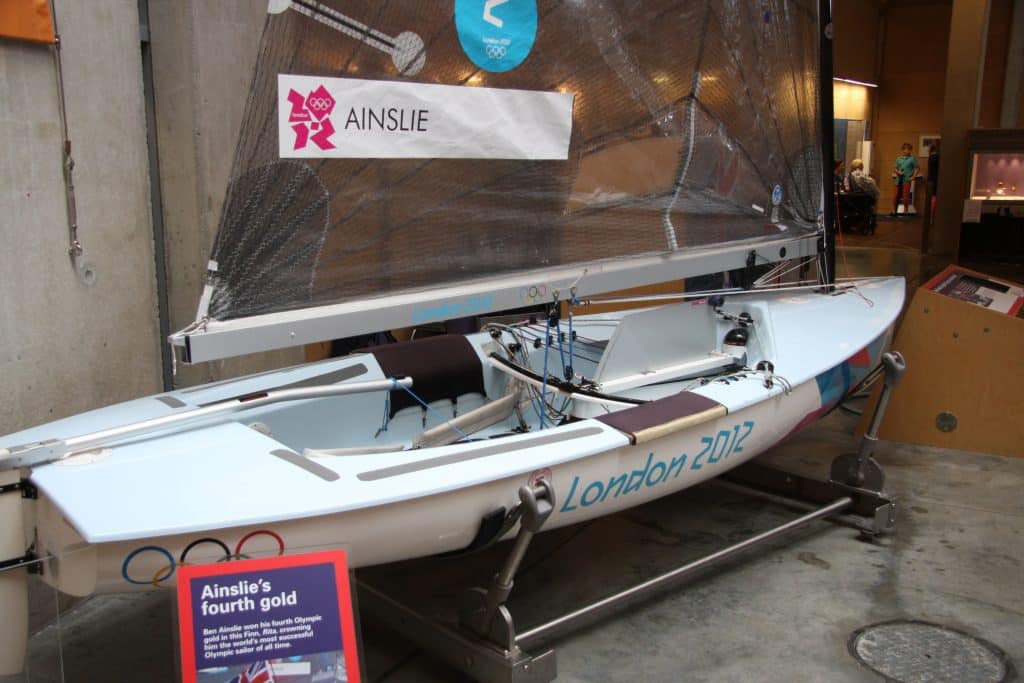 Sailing this Finn dinghy in Weymouth, local hero Ben Ainslie won his fourth successive Olympic Gold Medal at the 2012 London Games.
Ben owns several Finns, but has now used the same boat in the Athens 2004, Beijing 2008, and London 2012 games. Following his win in 2008 he commented, "I suppose most people like newer boats but I just like this boat. It has a very good feel to it, it's the one I felt most at home in. Sailing a Finn upwind in 15-20 knots, I don't think you could get a more satisfying boat. It's a real joy to sail and downwind it's a challenge". The results in 2012 justified his continuing choice of the same boat.
Ainslie has received various honours for his sailing exploits and received a Knighthood in the 2013 New Years Honour's List.
The Finn has been an active contender in every Olympic Games since its creation in 1949, by Rickard Sarby. During the last 50 or so years it has seen off many challengers for Olympic status.
Boats now have GRP hulls, carbon masts and kevlar sails – a far cry from the original wooden hulls and cotton sails of the 1950s.
With five medals from the ten sailing events (one Gold, four Silvers), Great Britain was less dominant in the sailing events than at Beijing, but still came home with the largest overall medal haul, ahead of Australia (three Golds, one Silver).
Length: 4.5m
Beam: 1.5m
Max. Draft: 0.9m
Min weight: 125kg