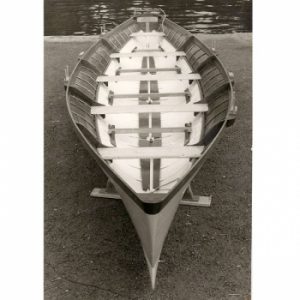 Small working boats have been raced in Cornwall since at least the 19th century. At 18ft length with a 4ft beam, they are smaller and lighter than their larger cousins, the 32ft Cornish pilot gigs, which have increased in popularity in recent years. However flashboats have a long pedigree.
The term 'flash boat' was originally a derogatory one, and dates from a period in their history, shortly after the First World War, when traditional small Cornish working boats were being modified by some builders to become sleeker and faster for racing. Flashboats can be rowed by between one and four rowers, with or without a coxswain. As well as being fast racing boats they are ideal for training rowers in fixed seat (as opposed to sliding seat) rowing.
When rowing, thole pins are used instead of rowlocks; a pair of wooden or metal pins is set into the gunwale on either side of the boat to serve as a fulcrum for the oars. The stretcher or footrest is a wooden bar on which you rest your feet and is used to push against during rowing.
During the 1970s and 1980s one of the most successful clubs on the flashboat circuit was Penryn Rowing Club, which dominated the sport during this period. Flashboat builders for Penryn Rowing Club at this time were Vic Angove, Robert Hilder, Dickie George and Willy Hurley. Builders guarded their plans very carefully and building the boat often took place in secret, to deter spies from other clubs. Vic Angove was the Chairman of Penryn Youth Rowing Club, later Penryn Rowing Club for 21 years, and became a Life Member on 5 August 1988 in recognition of his outstanding service and dedication to the Club and we'll be featuring him in a separate article in the future. A new rowing technique, now in common use, was developed among the Penryn rowers where, instead of rowing with two hands on top of the oar, they rowed with one on top and one under. This style has now been adopted by flashboat and pilot gig rowers alike.
There were originally two rowing clubs in Penryn, the Penryn Youth Rowing Club and Penryn Town Rowing Club. The two clubs amalgamated in the mid-1970s to become Penryn Rowing Club. Such was the club's success that in November 1978 a Civic Reception in its honour was held at the Royal Duchy Hotel in Falmouth by Penryn Town Council.
The rowing calendar was always very busy and regattas were held at Penryn, along the Cornish coast and as far as Plymouth. One of the longest races was on the River Tamar, from Weir Quay on the upper reaches to Saltash, a distance of 18 miles.
Flashboats are still racing: The Cornish Rowing Association (CRA) co-ordinates traditional Cornish flashboat and skiff rowing, and many flashboat rowers are also involved in gig racing. Rowing is an excellent sport and the local CRA clubs are determined to carry on this traditional form of racing. One of the attractions of flashboat rowing, for rowers and spectators, is the sight of the boats fighting for position as they round the marks on the course. Information about the Cornish clubs can be obtained from The Cornish Rowing Association secretary on (01326) 314621.