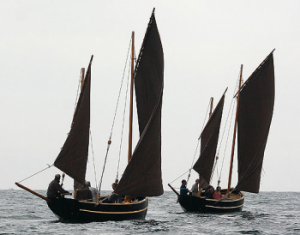 The lugger was the workhorse of Cornish fishing fleet for over 200 years. Two distinct variants emerged; their design based upon whether they were to be used for fishing in the harsh waters of the Atlantic or the calmer waters of the Channel. In the west, the Mount's Bay lugger was built double-ended to deal with the rough Atlantic conditions and to enable it's fishermen to be able to hold a much larger catch.
Following military developments during the First World War, engines started to become much more reliable and hull design had to be adapted to cope. Sailing vessels, including luggers whose shape had varied little for decades, became virtually obsolete to the new designs.
In 1930, a member of the Society for Nautical Research, P.J. Oke, happened upon a lugger during one of his many motorbike outings. The lugger named Veracity, had been altered slightly, and converted to take an engine, but Oke recognized the Mount's Bay heritage and took the lines of the ship. However, Oke did not draw the vessel as she appeared with the engine; instead he chose to recreate her as she would have been originally designed, under sail power. The Veracity was originally built by J. Blewett of Newlyn for a Mr. Paul Humphreys of Mousehole in 1902, although she had originally been named Boy's Own. One of the reasons Oke enjoyed the Veracity was because her lines were very much reminiscent of a bygone era when luggers were still the best way to catch pilchards in Cornwall.
Students of the Traditional Boatbuilding course at Falmouth Marine School recently reconstructed two vessels after her design. Oke's plans were modified to line drawings at 1:12 scale, and then later transferred to full size on a loft floor for the students to build. The two vessels are 22'6" in length (compared with the original's 33' overall), and have been built and rigged by 18 students in a single academic year.