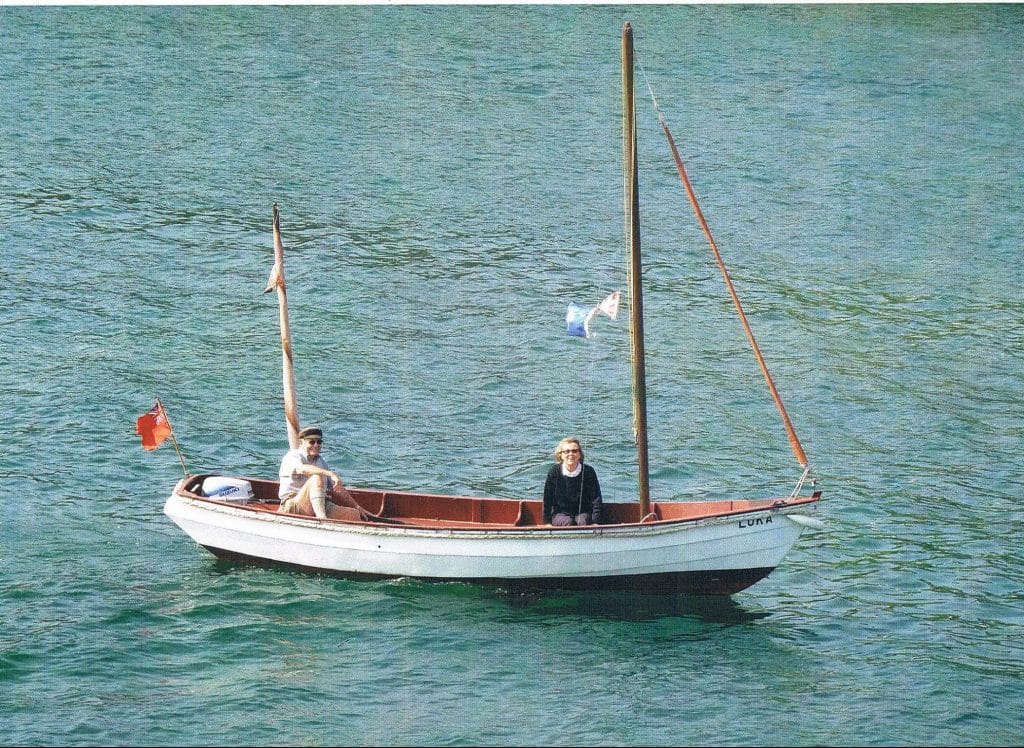 Commander John Watkinson, an experienced and accomplished Naval Officer, left the Royal Navy in 1958 and bought a boatyard, Kelly and Hall, to try his hand at a new venture.
In 1964 he sold the yard and moved to Drascombe Barton in Devon, where he set about designing a family-friendly sailing boat.
In his own words, taken from the Drascombe Owners' Handbook:
"Contrary to popular belief, boats of the "Drascombe" flotilla were not designed to appeal to the market for nostalgic reasons. I decided to indulge in the pleasure of designing and building a boat to suit my own requirements and being out of the boat business, I was entirely free of thoughts of "what will sell". My family did not share my passion for sailing small boats. In fact, it had to come to the point when I went sailing alone. Quite simply, if we were going to enjoy our leisure time on the water as a family, I had to design a boat that they could enjoy, and to do this the first requirement was that they should have complete confidence in the craft. The design began to shape by my thinking solely of our own needs which were
1. Ability to trail and for the family to handle on and off the trailer.
2. First rate sea-keeping qualities.
3. A good motor boat for, to start with, it was going to be a question of fishing and pottering under power,
4. I wanted the boat to be lively enough for me to enjoy a good hard sail once I had put the family on the beach.
It was uphill work but eventually the first "Drascombe Lugger" was launched in 1965.
The half-decked open boat with a high bulwark did wonders for confidence. The loose-footed yawl rig, with all sails stowing aloft and out of the way, gave the space needed for a family. By making the boat balanced under jib and mizzen as well as under full sail, the motor could be cut and fishing lines streamed without fear of hearing that sickening crunch as boom strikes female head. The hard turn to the bilge gave a powerful hull well able to carry sail. Her generous sheer kept her dry.
In short, we started to enjoy our boating together.
But it was not until 1967 that I was persuaded that other men might also have my problem. So at Earls Court in 1968 the first wooden production Drascombe Lugger was sold, within 29 minutes of the doors being opened to the public."
That boat, Luka, has now been donated to the Museum.
The boats certainly lived up to their requirements and Drascombes are as popular as ever with their owners.
Such was the faith in the seaworthiness of the Drascombe family that between 1969 and 1970 David Pyle sailed his Lugger from Emsworth, England to Darwin, Australia.