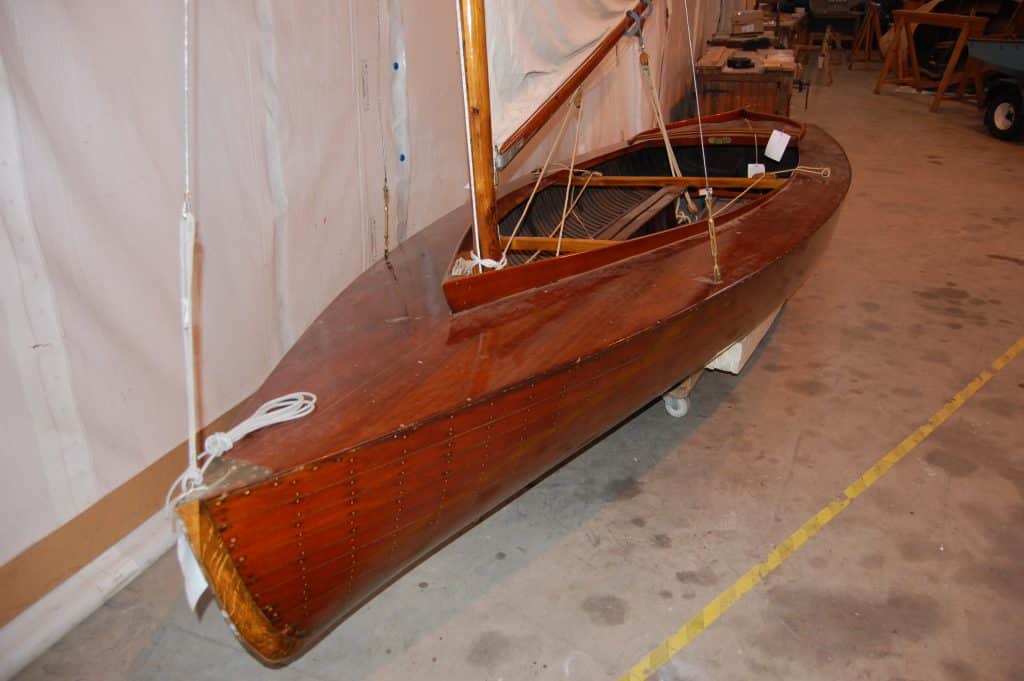 The Olympic Monotype, or O-Jolle as it is also known, was designed by Helmut Stauch as the single-handed dinghy for the 1936 Berlin Olympic Games, for which the yachting events were held at Kiel.
As the host nation, Germany succeeded in persuading the Olympic Committee to adopt their heavier, narrower design of centreboard dinghy, a distinctly European trait. A detailed set of class rules ensured that the boats were solid and well built. Frame spacing, for example, was at 3 inch (75mm) centres. Double or wishbone-shaped tillers were popular in Europe, enabling the helmsman to shift position without disturbing the angle of the rudder.
The British Olympic competitor was the renowned sailor, artist and naturalist Sir Peter Scott, with Stewart Morris as spare man. It looked as though Great Britain was going to win a silver medal in the fleet of 25 boats, until the final race. In a Games somewhat removed from those of more modern times, Yachting Monthly reported: "Mr Peter Scott in the Monotype Potsdam was third (bronze medal) after a ding-dong battle through the series. As he very properly gave up after touching a competitor in one race his 131 points against the Dutch winner's 163 and Germany's 150 is the most remarkable."
The Monotype was not built in large numbers. However a number of boats were brought to Britain for the Olympic qualifying matches, which were held at the Royal Corinthian Yacht Club at Burnham on Crouch in May 1936, only three months before the Olympic Regatta. It's possible that the Museum boat was part of that fleet. The European and Scandinavian sailors were used to the strange handling characteristics of the boats, but they seemed cumbersome and slow to British sailors, who were much more used to lighter, more responsive craft.
The class did not gain popularity, being superseded by the far superior Finn, designed in 1950 by Rickard Sarby and still competing in the Olympic Games.