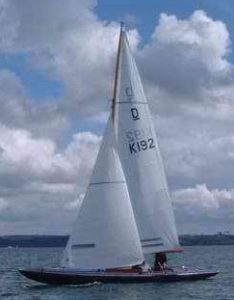 The first Dragon was built in 1929 in Sweden as a result of a competition to find an affordable weekend cruising boat.
In 1948 the Dragon qualified for Olympic status, which lasted until 1972. Unlike many other boats which slipped into obscurity after withdrawal from the Olympics, the Dragon has continued to grow in popularity and numbers;
Dragons are still being built and race on the International Scene today. There are over 1400 registered with national associations throughout the world, and many other Dragons are used for cruising. In 1948 the then Princess Elizabeth and Prince Philip Duke of Edinburgh were presented with Bluebottle as a wedding present; a Dragon built by Camper and Nicholson and paid for by members of the Island Sailing club in Cowes.
Although Prince Philip did not sail her extensively, she was sailed by a number of crews, and even won a bronze in the Melbourne Olympics of 1956. Bluebottle then spent nearly forty years as a sail training vessel at Britannia Royal Naval College until 2001 when she was lent to the Museum. She was taken to the yard of Maurice Hunkin for an extensive refit – an appropriate place for her refurbishment as Maurice's father, Charlie, had carried out her first major refit nearly 50 years earlier.
Bluebottle is on loan from the Duke of Edinburgh.
Type: International Dragon
Designer: Johan Anker
Builder: Camper and Nicholson
Date built: 1948
Dimensions: Length overall 8.9m (29ft); length on the waterline 5.7m (18ft 6in); beam 1.95m (6ft 4in); draught 1.2m (3ft 11in); sail area 27m2 (290 sq ft)
Construction: Carvel planking on steamed timbers
Rig: Bermudan Sloop