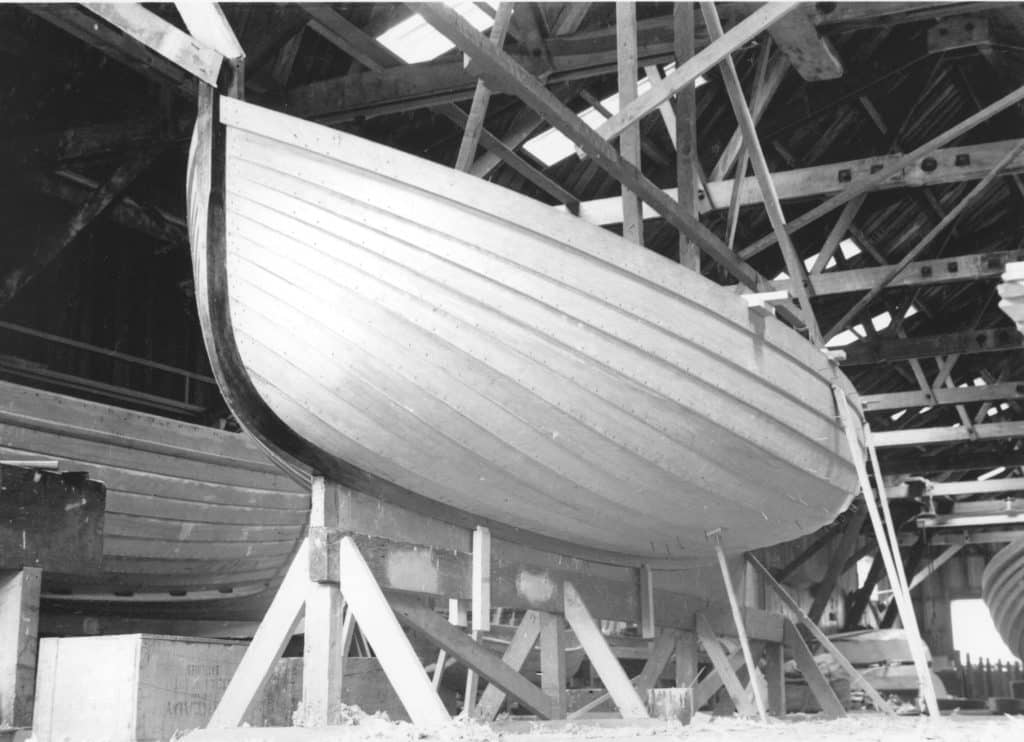 In 1948 a 14ft sailing dinghy was presented to Princess Elizabeth and the Duke of Edinburgh, as a wedding present from the Royal New Zealand Navy.
Named Kiwi the boat was built in the workshop of HMNZ Dockyard, Devonport, New Zealand. Based on a standard design for the Royal Naval Sailing Association, she was modified slightly from the standard pattern, being slightly narrower beamed. In place of stern bench thwarts she was fitted with gratings for a more attractive finish. Timber used was Kauri Pine and Pohutukawa. The finish was varnish and her sails were made in the sail loft of the Dockyard. Contrary to normal naval practice, the boat was not marked with any identifying names or numbers.
The Royal Navy Sailing Association (RNSA) 14ft dinghy was a modified version of the Island Class One – Design dinghy designed by Charles Nicholson and Uffa Fox in 1935. In 1937 the British Admiralty adopted the class, with modifications specified to adapt it for ship-board use. Its purpose was to provide sailors aboard ship with the opportunity to sail in boats other than heavy Service cutters and whalers. The gunter rig (avoiding the inconvenient length of the bermudian-rigged mast) made the boats suitable for transport on naval ships and their sturdy clinker construction made them ideal for launching from the shore when required.
The first six boats were ready for use on HMS Vernon in April 1938. Numbers steadily increased, replacing the 16ft skiff, which had been the smallest craft in the Royal Navy. The RNSA dinghy – or Rensa as it was commonly known – was in Service use for about 25 years until it was replaced by the fibreglass Bosun dinghy.
It's not known whether the Royal couple used Kiwi to any great extent, but from the 1950s she was used by a number of sailing organisations and Sea Cadet Units. In 1952 George Vince, Director of the Southampton Sailing Centre, won first prize in her during Colne Week.
Length: 14ft (4.27m)
Beam: 5ft 7ins (1.7m)
Rig: Gunter sloop