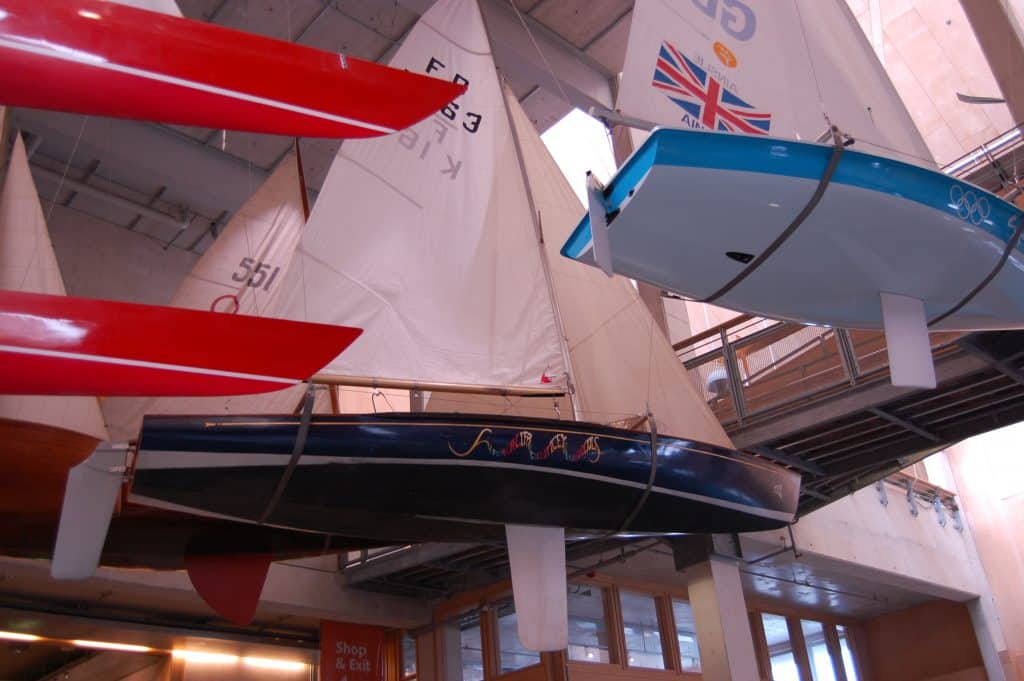 Supercalifragilisticexpialidocious or Superdocious for short, was sailed by Rodney Pattisson and Iain Macdonald-Smith to Gold Medal victory in the 1968 Olympic Games.
They won a record–breaking 6 out of 7 races, and used the trapeze, a device which had in earlier years been banned as unsporting.
The Flying Dutchman Class was designed through a collaboration between Conrad Gulcher, and the naval architect Uus Van Essen, in 1951. In her first year with Pattisson and Macdonald-Smith Superdocious won the Canadian Open Championship and was runner up in the British, European and World Championships. Pattisson and Superdocious went on to dominate the Flying Dutchman Class over the next four years, winning no less than eight major championships, including Olympic Gold in 1972 and Silver in 1976.
Rodney Pattisson was an athlete ahead of his time, single-minded in his pursuit of physical fitness. It is said that he did not join in any of the social life while taking part in the Olympics, but used his time to study sea and weather conditions, tune the rig on his boat and maintain fitness. He was a Lieutenant in the Royal Navy when he won his first Olympic Gold, but resigned his commission after this victory, so that he could devote more time to training. In 1969 Pattisson was awarded the MBE for his services to yachting. He retired from the Olympics after 1976 and later co-skippered Victory 83, The Peter de Savary entry in the 1983 America's Cup.
Pattisson was Great Britain's – and Scotland's – most successful Olympic yachtsman, until Ben Ainslie overtook him in the 2008 Games by winning three Golds at 3 different Games. In 2002 he was elected to the Sailing Hall of Fame and the Scottish Sports Hall of Fame.
Superdocious was built in 1967 by Bob Hoare of Christchurch, Hampshire using the cold moulded wood technique. The boat was presented to the National Maritime Museum by Alfred Dunhill Ltd, one time sponsors of the British Olympic Sailing Team..
Length 6.05m; Beam 1.7m; Draft 1.09m.