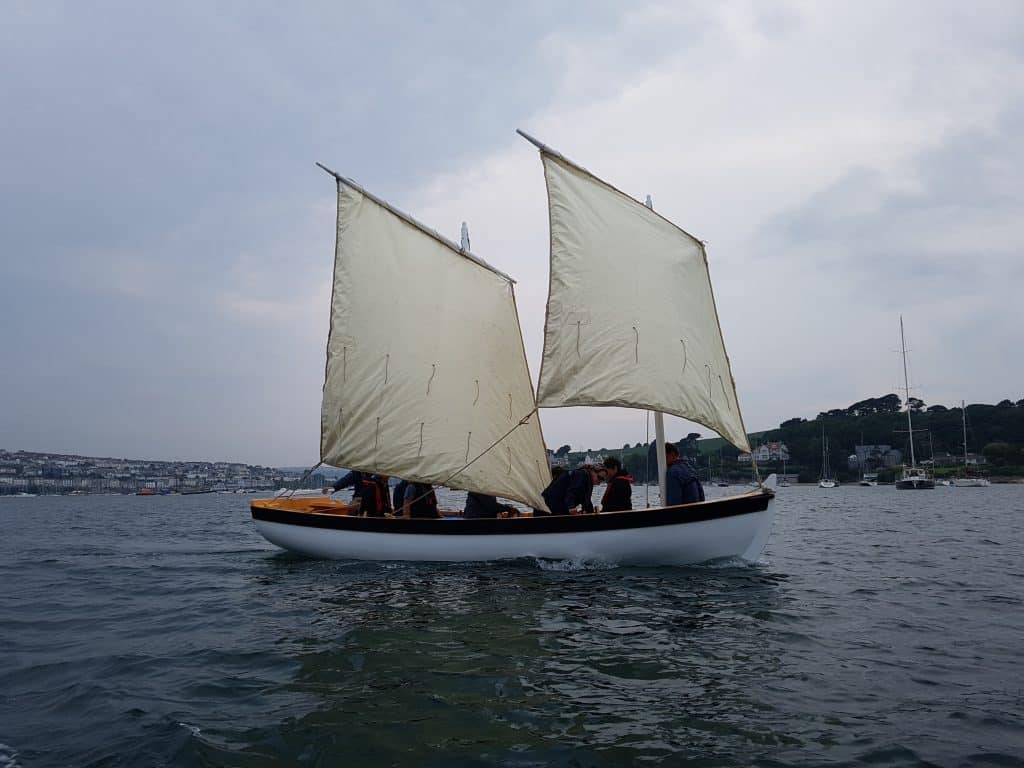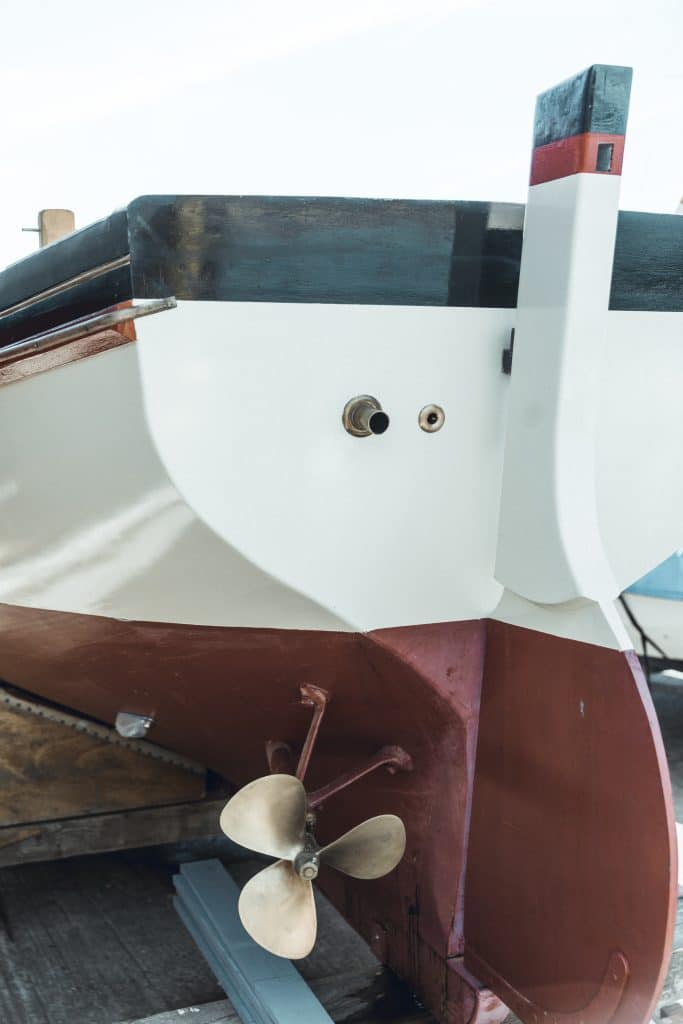 Although a distinct design in her own right, in many ways Sea Queen looks like a smaller version of the better known Looe Lugger or Falmouth Working Boat.
Mevagissey Toshers (Tossers or Toshers) is a name generically applied to small fishing boats), were built in Mevagissey and nearby Portmellon for use by Cornish fishermen for line fishing for mackerel or hake, or occasionally for drift netting, mostly in the area bounded by Fowey to the east and the Lizard to the west.
Toshers were carvel built boats, of a 19th century design, although their heyday came in the 1920s. They were mostly between 18 and 22 feet in length, though some reports suggest that higher harbour dues above 20 feet kept most boats below that length. Over the years every possible variation of deck configurations evolved: boats could be fully open, or have a small foredeck, while some of the larger boats featured a small cuddy. Storage was built in under the thwarts.
Toshers originally had a simple rig, usually with a loose footed dipping lugsail which facilitated movement around the boat for handling lines and nets. Sometimes a mizzen was fitted for steadying and holding the boat head to wind. By the early 1900s this configuration was being replaced by the faster gaff cutter rig. Following the First World War many boats were retrofitted with engines, and rigs were reduced in size. Engines were usually fitted on the port side with the prop emerging from the port quarter, which necessitated all line and net handling to be done on the starboard side, to avoid fouling the propeller. Some boats were fitted later with a second engine on the starboard side.
Sea Queen was built in 1924 in Portmellon by Percy Mitchell who, having finished his boat building apprenticeship in 1921, went on to establish a long-lived business in the village. Sea Queen was his first Tosher built in his new yard, and had close fitting planks with no caulking, all cut by hand. She would have been built in about a month.
Sea Queen retained the original lug-and-mizzen configuration although an engine was also installed. The boatyard was set some way back from the quay, so launching a new boat necessitated some delicate manoeuvring with the boat on a hand-towed trolley, waiting with the boat on the quay edge till high tide, and then pushing her over.
Like many other traditional boats, whose designs have been proven over time, Toshers are still being built in the Falmouth area, albeit in fibreglass, either as sailing boats for leisure use or for oyster dredging, or as motor boats, and a number of original wooden boats still survive, some of them still racing regularly in the local working boats fleet, now rigged as boomed gaff topsail cutters.