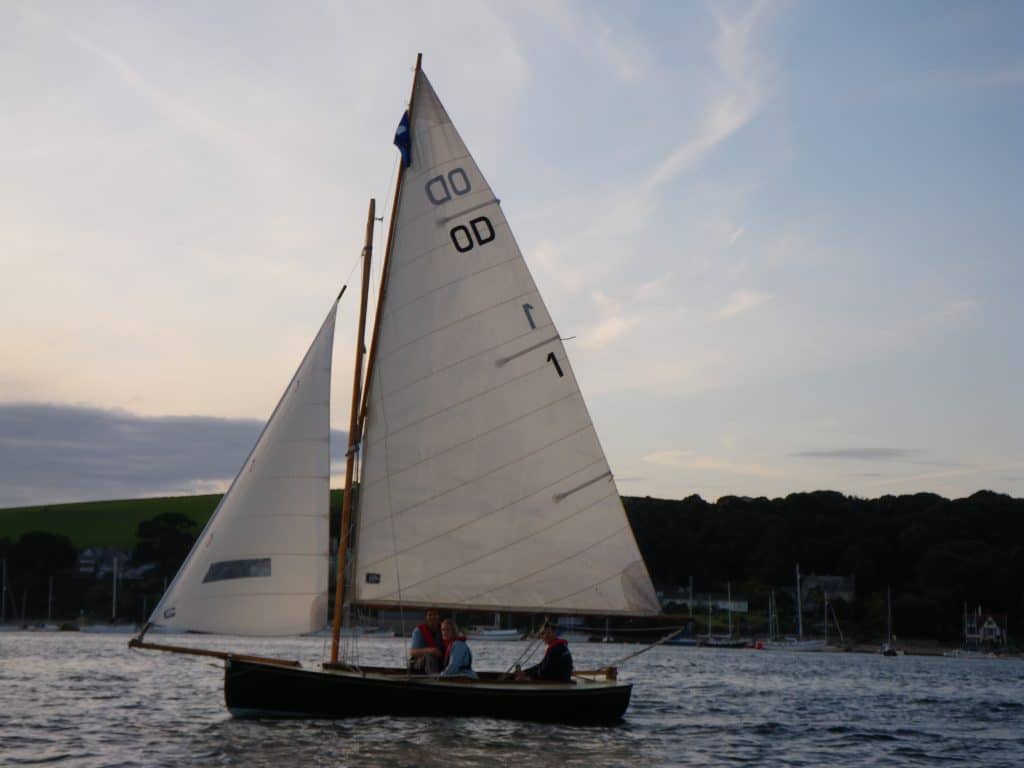 The SMOD evolved as a result of a Dr. James defeating Frank Peters in races off St. Mawes, Cornwall in the early 1920s.
These defeats led to Frank Peters designing Aileen in 1923, and so the first SMOD was born. Frank Peters, designer of the class and builder of Aileen, was part of a family firm which had been building boats locally for some two hundred years.
The firm was also well known for having built many of the original pilot gigs used round the waters of Cornwall and the Isles of Scilly. Aileen won three Falmouth Town Regatta Class races for 16' dinghies in 1923-1925, thus putting her firmly on the map and proving Frank Peters to be a talented 21-year-old boatbuilder and sailor. Forty five boats have been built since 1923, 24 of them by Frank Peters, and 43 are still in existence.
Aileen was launched in 1923, and Frank Peters owned her until 1949, when she was sold to new owners who took her to Chichester, and she subsequently sailed on the Thames for many years. This long absence from Cornwall ironically helped to preserve Aileen largely in her original configuration, as changes in the design rules were allowing modifications to take place to other boats in the class, especially to the rigs which changed from gunter to bermudian during the 1950s. This also had the effect of altering the sail aspect ratio and increasing sail area by 20%. Aileen was donated back to the SMOD Association by her last owners, and restored by boatbuilder Jonathan Leach and a number of volunteers, following a campaign to raise the £4000 needed. She was relaunched on New Years Day 1990 in the presence of Frank Peters.
For a number of years she was used as a hire boat for Association members, being unable to race competitively as she was unmodified. In 2003 the Association donated Aileen to the Museum on the Class 80th birthday, and we were very pleased to be able to take a boat of such Cornish importance into the collection, thus ensuring her preservation for the future. She is now based on the Museum pontoon with our other historic waterborne boats during the summer months, and can also be seen sailing as a guest at some of the events in the Falmouth and St. Mawes area. Frank Peters died in 1995 and is buried at St Just-in Roseland, overlooking the waters where he raced Aileen.
Type: St. Mawes One Design
Designer: Frank Peters
Builder: Frank Peters
Date built: 1923
Dimensions: LOA: 16ft (4.88m); LWL: 15' 10" (4.83m); Beam: 6' 6" (1.90m)
Construction: Carvel pine planking on ribs of rock elm. Ballast of six iron weights of 56lb (25.4kg) each. Cast iron centreplate weighing 150lb (68.2kg)
Rig: Gunter rig, originally hollow bamboo mast and spars, now solid timber.
Mainsail area: 105sq ft (9.75m2); Jib area: 45sq ft (4.19m2)