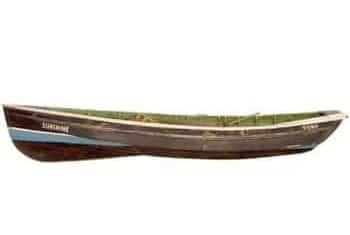 Sunshine is a Sunderland Foy Boat, known locally as a coble.
The distinctive hull shape of these clinker built beach boats has been traditional along a stretch of the north east coast of Britain from Spurn Head in Yorkshire to the Farne Islands in Northumberland.
Cobles were developed as beach boats for launching into surf, and they met this purpose extremely well. Like most working boats of highly individual form they sailed and rowed very well in the hands of their expert owners.
Despite the flat run of planking and a lack of any deep or drop keel they could sail very well to windward, due to the long sharp forefoot and the addition of a very long rudder blade. With a sharp high bow and very flat sections in the stern the coble anticipated some modern motor boat practices.
Cobles were almost invariably clinker built and equipped with a tall narrow dipping lug sail. When rowed the oars were fitted with an iron ring which was located over a single thole pin, making it possible to let go of the oars without losing them over the side. Cobles can be built from about 12ft up to 42ft or even longer; some are fitted with engines.
The Museum's boat Sunshine was built in Sunderland c1880 and is a small version of the type known as a half coble, developed specially for pilotage and tender duties. Boats employed in this way are known as Foy boats. They have less sheer forward than their larger relatives and the transoms are heavily raked to give them stability when towed behind or alongside ships stern first. This extreme shape makes the type one of the most distinctive and beautifully shaped local working boats in Britain.
Perhaps the most famous coble is the one used by Grace Darling and her father in the rescue of the Forfarshire's crew in 1838.