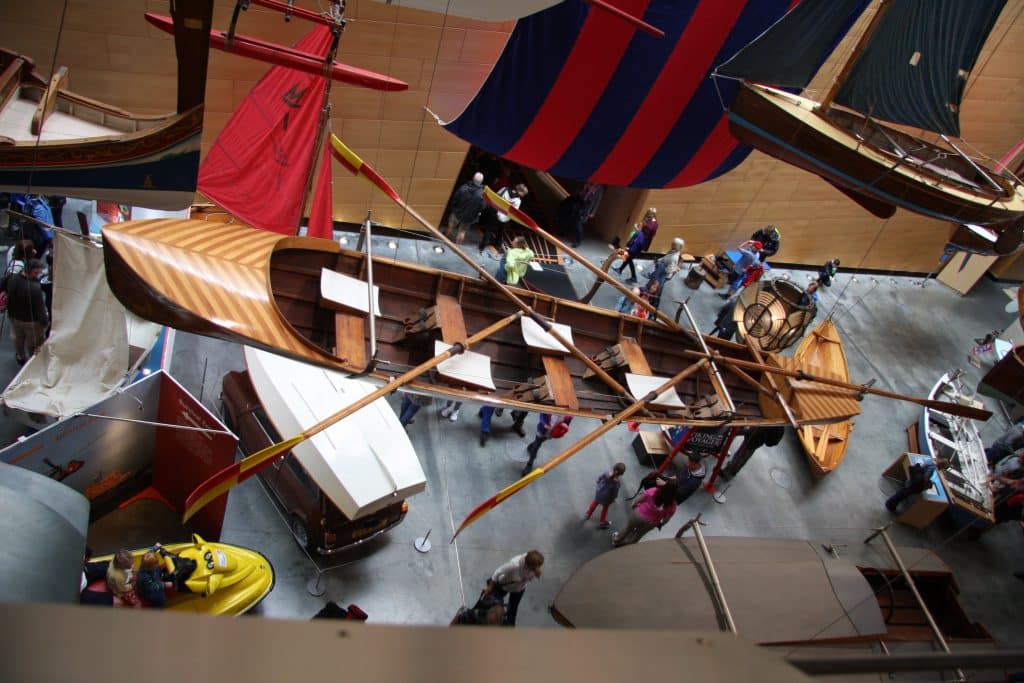 Surf life saving boats were first introduced into the UK from Australia in 1965.
They have always been used primarily for competition and only occasionally for rescue. Today, the equipment for rescue has changed dramatically to include jetskis and paddleboards. Surf boats are now only used for competition. The Neville Glidden was built in Australia c. 1963 and named after a founding member of Floreat Surf Life Saving Club in Perth, Western Australia.
The boat was used in Perth as a rescue and competition boat until it was shipped to Falmouth Surf Life Saving Club c. 1985. In 1992 the Neville Glidden was then sold to Bude Surf Life Saving Club where she had a successful competition career including third place in the World Surf Life Saving Championships held at Newquay in 1994, shown in this image. Until recently, all surf boats in the UK were imported from Australia or left behind by a visiting overseas team.
Although surf boats today are made of fibre glass or carbon fibre, the shape and size has changed little over the years. There are four rowers and one sweep. The sweep stands at the back of the boat using the long steering oar to manoevre the boat through the pounding surf and shout instructions to the rowers. The sweep is the only person facing forward to see what walls of water his crew can expect.
At times, the rowers will leave their sitting position to move to the back of the boat to keep the boat stable when ploughing through breaking waves. Bude is the oldest surf club in the UK, formed in 1953 by Alan Kennedy, an Australian-born surf life saver. The Surf Life Saving Association of Great Britain was formed a couple of years later, in 1955.
Builder: Bill Rimmer, Belmont, Perth, Western Australia Date built: c. 1963
Dimensions:
Length 7.8m (25ft 6in)
Beam 1.65m (5ft 4in)
Construction: cold-moulded diagonal outer skin on plywood inner