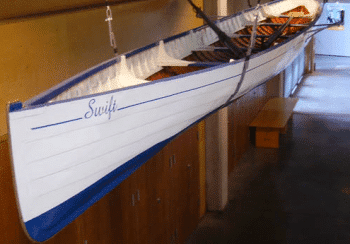 Swift and other boats like her were built for racing on the rivers Gannel and Camel in Cornwall.
Probably built sometime between 1890 and 1910 in Padstow, Swift is unsuitable for use at sea thanks to her low freeboard – the height of the gunwale out of the water – and most importantly, she simply is not strong enough.
These gigs were predominantly family owned and raced, with even a young child being employed as cox to steer her. Prior to the Second World War there would have been many local regattas to compete in.
Swift was brought to Newquay in the 1950s by Richard Gillis after finding her in store in the rafters of Brabyn's Yard, Padstow. Tommy Prior, a local joiner and carpenter, carried out some work on her and Dick Gillis, a Newquay chemist and author then tried to use her on the River Gannel, though with little success.
Following several other unsuccessful attempts to use her, Swift was placed in the care of Newquay Rowing Club who put her into store, firstly in the old lifeboat house on Towan Head, then in the whim tunnel on Newquay Harbour and finally in the new building of Newquay Rowing Club. It was from here that she was donated to the NMMC in 2003 where she was restored.
However the mysterious part of Swift's long life comes in the pre-1950s era. We know that she was owned by Arthur Hamilton Hawkey, a well established blacksmith and general engineer in Wadebridge, but unfortunately very little else. Despite the fact that one of Arthur's sons, Harold (of Hawkey's Tours fame), was responsible for cataloguing, researching and locating these pre-war gigs none of the older generation of Hawkeys can recall anything about Swift saying that gigs and boats were Harold's interest and if they ever did join him on any trips they were simply going along for the ride!
If you are able to provide any further information on Swift we would most certainly like to hear from you.
Principle dimensions:
LOA: 6.7m
Beam: 0.8m
Draught: 0.25m
Construction: Softwood clinker planking on steamed hardwood frames