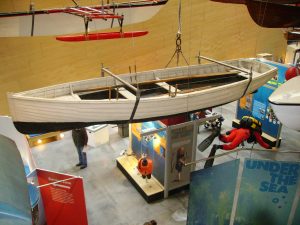 This wooden clinker pulling boat was built by James Goss, a famous builder of small merchant sailing vessels and boats, and was the last boat he built before his yard closed.
It was constructed from the odds and ends left over from previous constructions and is typical of the type of boat that was used for salmon fishing on the Tamar; low sided with a stable hull and a full after body to take the weight of a soaking salmon net in the stern. It could be pulled by either one or two sets of oars.
Old Stan's was used from Cotehele Quay on the River Tamar, specifically for salmon fishing. One end of the fishing net would be staked to the bank, whilst the remainder was carefully flaked in the stern so that as the boat was rowed across the river, the net would set itself over the stern in a wide arc. When three quarters of the way across, the boat was rowed either up or down stream (depending upon the flow of the tide) and back to the bank, where after about five minutes the net was hauled. This type of fishing method was only possible very close to high and low water when the tidal flow was minimal.
Most of the boat's working life was spent in the hands of her owner Stanley Lansford (Old Stan), but after nearly 50 years hard work she was retired into the hands of the National Trust, and later acquired by the National Maritime Museum.
Over the years dwindling salmon stocks meant that fewer and fewer licenses were granted for netting, to prevent over fishing. In 2004 this method of fishing was suspended for a minimum 10 year period. Since then the annual average number of catches by rod and line has been increasing as stocks recover – the largest salmon caught in 2005 was 14 lbs, and the largest sea trout 4½ lbs.
Name: Old Stan's
Builder: James Goss
Place: Bere Alston, Devon
Date of Build: c.1922
Length: 17 ft
Beam: 6 ft
Draft: 1 ft 8 inches