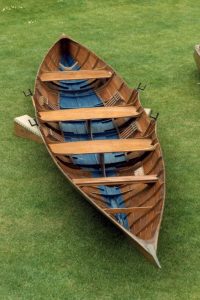 Apart from London Bridge, built in 1209, the only means of crossing the Thames below Staines until the mid 18th century was by boat.
The Thames wherry was an open rowing boat which was used to ferry passengers in much the same way as taxis are used today. Built for speed and ease of rowing, the wherry lent itself to racing among both rival watermen and between racing enthusiasts. This competition was often encouraged by passengers, who were not averse to a wager. Competitive rowing became increasingly popular and, although the wherry was lightened and modified, for example by the removal of passenger seats, it was ultimately replaced by skiffs and shells.
With a boat that had such a long history, it is not possible to trace its original design and the evolution of its shape and size. However, bearing in mind the history of the region in which it was used and the boat's shape, the influence of early Scandinavian boat builders seems almost certain. While the design was modified over the years the wherry was basically an open, light, clinker built boat. Its size ranged from approximately 5.6m to 8m. The larger boats would be rowed by three crew and carry up to eight passengers.
The number of wherries in use in the 16th to 18th centuries is unknown but early membership roles of the Company of Watermen and Lightermen include some 40,000 names. It is certain that the use of wherries increased as London expanded. They were also used along the river upstream as far as Windsor. At their peak there must have been several thousand, but their demise was quite rapid as bridges were built across the Thames and other forms of transport developed.
A typical wherry had a sharply raked, straight and elongated stem. Its broad beam was carried well aft, allowing a wide thwart, with back rest, and side benches. The stern was tapered with a short, vertical sternpost. Some wherries had a sprit or lug sail set on a short unstayed mast that was stepped through a hole in the forward thwart.
The Museum wherry, acquired by the National Maritime Museum in 1983, was designed specifically for racing, and was probably built by Searle of Lambeth about 1865. It is said to have been owned by Lord Morley, a member of London Rowing Club, and was eventually purchased by Mr J Everett.
Mr Everett rowed the wherry on a voyage which took him to Gloucester via the Thames, the Kennet and Avon Canal and the River Severn, returning to the Thames at Brentford by way of the Grand Union Canal.