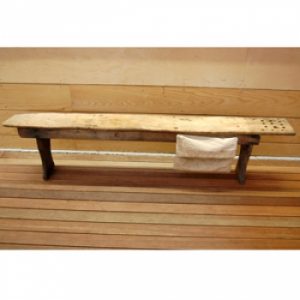 An ordinary bench? Ordinary seeming objects often have interesting stories behind their creation and use.
This bench was used by Frank Tresidder of Penrose Sailmakers at Upton Slip in Falmouth. All ports and fishing villages had sailmakers who were a key part of the industry in keeping boats and ships afloat. They worked hard to make sails in long spacious buildings called sail lofts. The length of the building was important to allow the sails to be laid out. The rooms were well lit with large windows to let the light in. Often other businesses were located beneath the lofts. One sail loft, run by Charles Prior in Falmouth, was burned down by a fire at the bakery beneath in 1924.
The bag (shown here at the front of the bench) was actually behind the sail maker, who would reach behind to bring out additional tools. The majority of sailmakers were right handed – hence the bag is on the right of the sailmaker. There are also holes in the end section to prop up tools and keep them close by. The sailmakers' benches acted as their tool chest as well as a place to sit and work. Sometimes benches incorporated small boxes of tools on one end. Benches with these boxes tend to be more associated with naval sailmaking.
Sailmakers used needles, sailmaker's palms, scissors and other rope and cloth working tools to undertake their job. Each sail was made of canvas strips sewn together by hand, until around 1880 when sewing machines began to be used. Finishing work was always done by hand. Sailmakers sewed ten stitches to the inch in the early days of sailmaking.
The skills of the sailmaker were valuable at sea, not only on land. Sailmakers were amongst the crew on board ships repairing damaged and worn sails. These skills still survive today, although fewer people use them due to the introduction and use of different materials for sails and the decline in the use of sailing vessels for transportation.
To find out more about the role of the sailmaker visit our Cornish Quayside gallery.