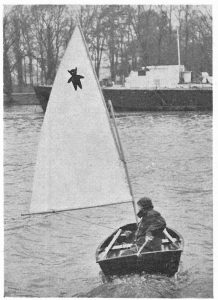 "There is a tremendous satisfaction to be had from boating, and many possible ways of going afloat, …(there is) something special in adventure and romance and particularly the satisfaction of being skipper of your own craft. That often misquoted bit by Water Rat about there being nothing half as much fun as simply messing about in boats is perfectly true, but there is even greater fun to be had out of messing about in a boat you have built yourself."
Percy Blandford, a legendary designer and builder of boats and canoes for home building, died in early 2014, aged 101. He wrote over 100 books and 4,000 articles on a diverse range of topics, from blacksmithing to kayak building.  His first article was published in 1931 and his first book, Netmaking for seamen, Yachtsmen, Boy Scouts and others, in 1941.  His designs include the PBK series of canvas-covered kayaks, a number of sailing dinghies and the somewhat larger Lysander small cruiser.  Among his many claims to fame is that of being an official timekeeper for the rowing and canoeing events during the 1948 Olympic Games.
Although his best known boat is probably the Lysander, Percy Blandford's plans sold over 770,000 copies worldwide, which must surely be a record, before being sold to Clark Craft of the USA.  His design for the Gremlin dinghy (pictured)  was in some ways a precursor to the much better known Mirror dinghy.  His publications have proved to be an inspiration to thousands of people who otherwise might never have built their own boat or taken to the water, and who responded to his simple, down to earth style of writing.